Destination: Fairbanks, Alaska USA
Trip Length: ~4 days
Vacation Days Used: 8 hours
Total Cost: $1067.80
$569.20 - Round trip flight from LAX to FAI
$39.60 - 4 days of parking at LAX
$100 - Car rental in Fairbanks, with the under 25 fee :(
$60 - 2 nights at 9th Ave Hostel
$30 - Tried to save on food by packing food: Instant noodles, nuts, and energy bars.
$269 - Arctic Circle/Aurora Tour
---
Travel Day 0 (Thursday, March 30th, 2017)
The day I've been waiting for was finally here, I was going to Alaska to chase the northern lights. I took Friday off work and left work a bit earlier on Thursday afternoon to drive out to LAX for my flight at 7:45pm. I had chosen a flight at night for two reasons: 1 so I didn't have to take an additional vacation day just for travel and 2. So in case the northern lights were out that I might catch them from the flight. I also booked a seat on the right side of the plane which would be facing north west, increasing my chances of seeing the aurora from the flight.
The flight had a short layover in Seattle which I almost missed due to a 25 delay in takeoff, but I ran through SEA and got onto my plane headed to Fairbanks. I was excited to see that I could see out of 2 windows from my seat, the aurora forecast was strong that night and both of the seats next to me were empty, sweet! Things are looking good for being able to see some auroras from the sky!
After the plane took off and got into the aurora zone, about the middle of Canada, I started to check the window about every 5 minutes… and sure enough a little while later I saw them!!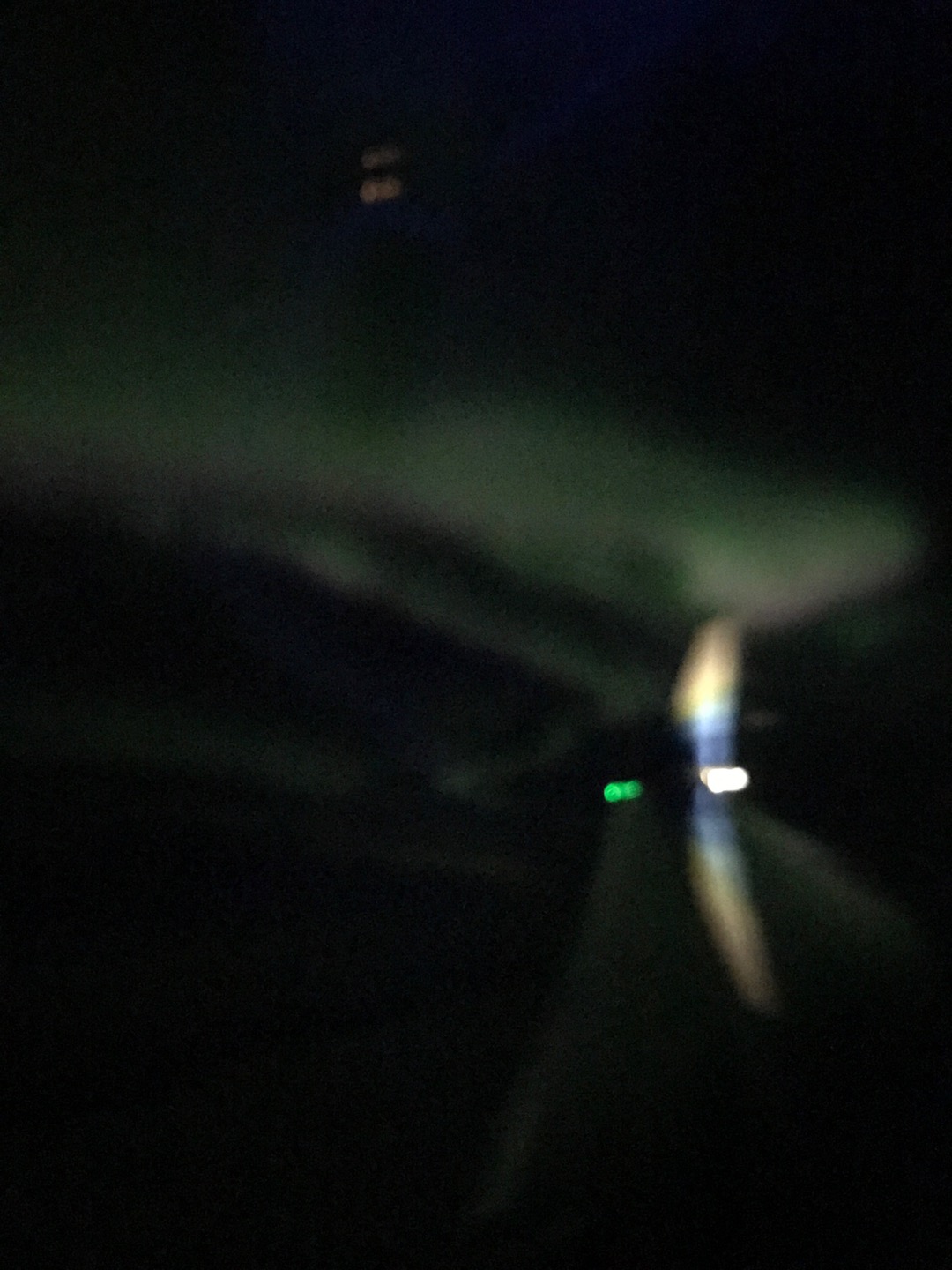 They were a dull gray green color and looked straight up like long wispy smoky ribbon strands. At some points they shimmered like curtains. The top row of the auroras would shimmer to the left and the bottom row would shimmer to the right. The were moving about the speed of medium moving clouds. They twirled into spirals, U's and all shorts of shapes and at one point I thought it looked like a cinnamon roll :). I saw some brief red color too inside of the aurora but the vast majority of the time they were a faint gray green. Probably because they weren't super strong? I think the plane was flying pretty close to them though. Also I had to smash my face into the window and use anything I could to surround my face in order to block the glare so I could see them better. It was pretty majestic too seeing them in front of a backdrop of stars as we flew over north western Canada/Alaska.
That was what I jotted down right after the auroras faded and I calmed down from the excitement. I also remember seeing the lady in front of me editing a word doc on my laptop and thinking, damn how could she be missing this! But maybe she was from Fairbanks and this was normal for her now.

I landed in Fairbanks around 2:00am in the morning on Friday, March 31st, found a cozy row of seats at the airport and had a rough sleep.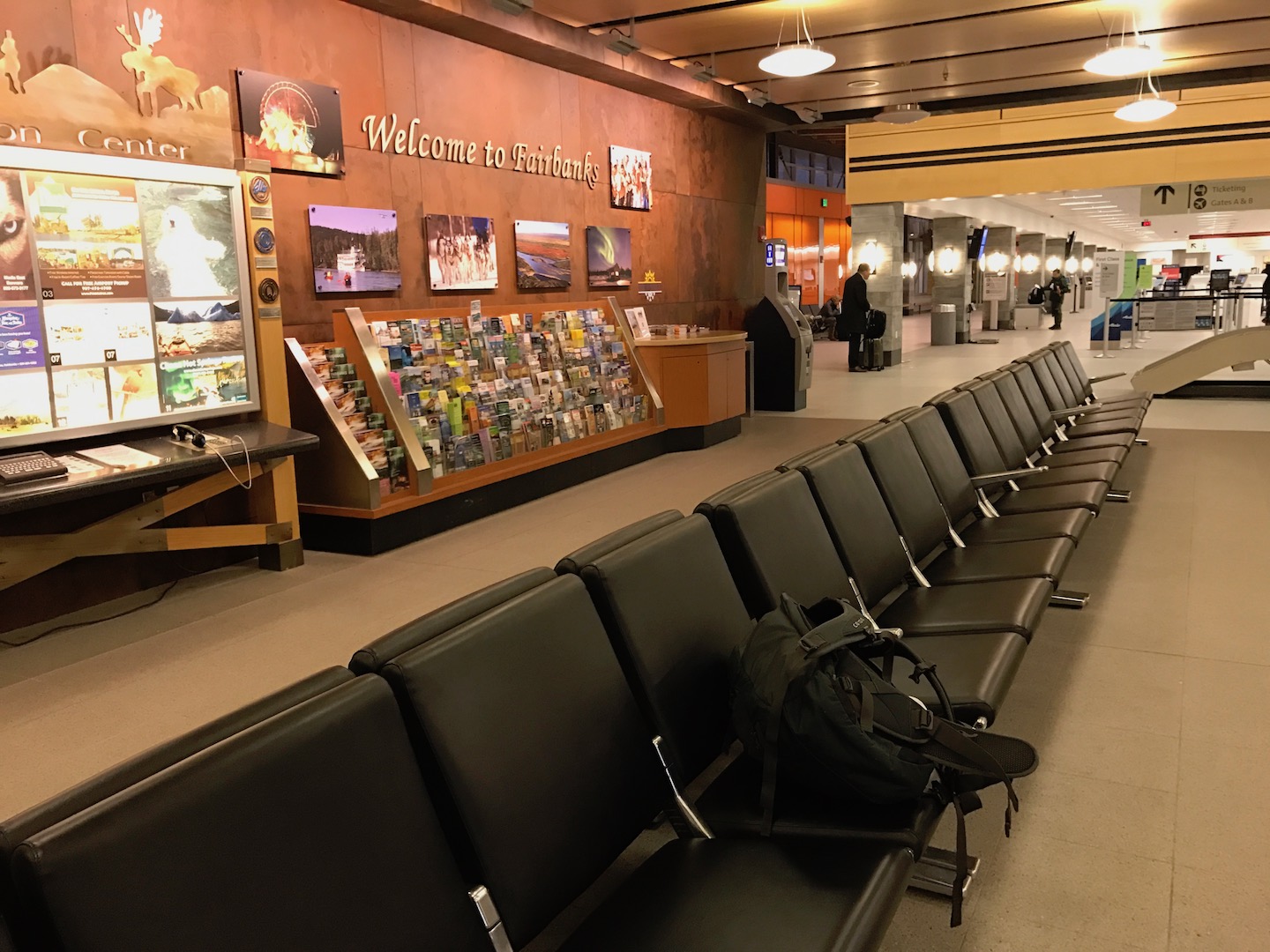 Alaska Day 1 (Friday, March 31st)
I wasn't able to get any real sleep at the airport but I felt okay and at 8:00am I headed outside and walked about 1/2 mile in the snow to a La Quinta hotel near the car rental place. I rested there, watched some local news, ate some of my peanuts and energy bars, watched the sunrise, and waited there until I could go get my car.
After I got the car, I drove to the hostel I had booked and immediately met some really friendly travelers who opened the door for me: Eileen from Germany, Liang from SF, Wei Wei from SF we chatted a bit, got to know each other and made some plans to go out and wait for the auroras together that night. The owner, Cho was also extremely nice and friendly and we connected about Overwatch!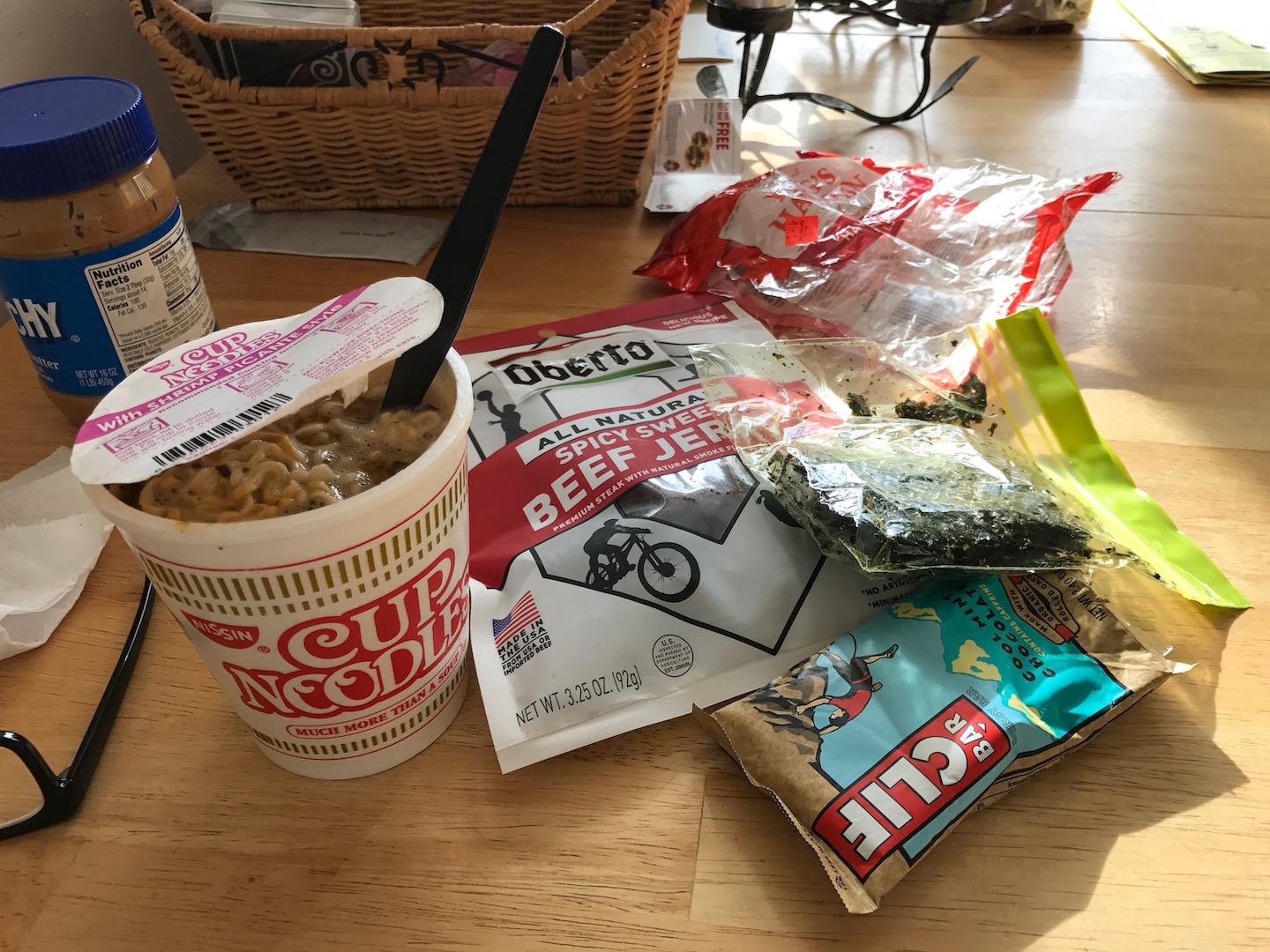 I ate some of my food, then washed up and slept for about 3 hours. I woke up in the early afternoon, showered and drove out to an area I looked up called Cleary Summit to explore good aurora viewing places for later and get familiar with driving in the snow before having to do it at night. Ended up also driving 50 miles down Chena Hot Springs road, just to explore the area. I met some travelers from San Francisco at a stop in the road, and took some pictures of the landscape before coming back to the hostel.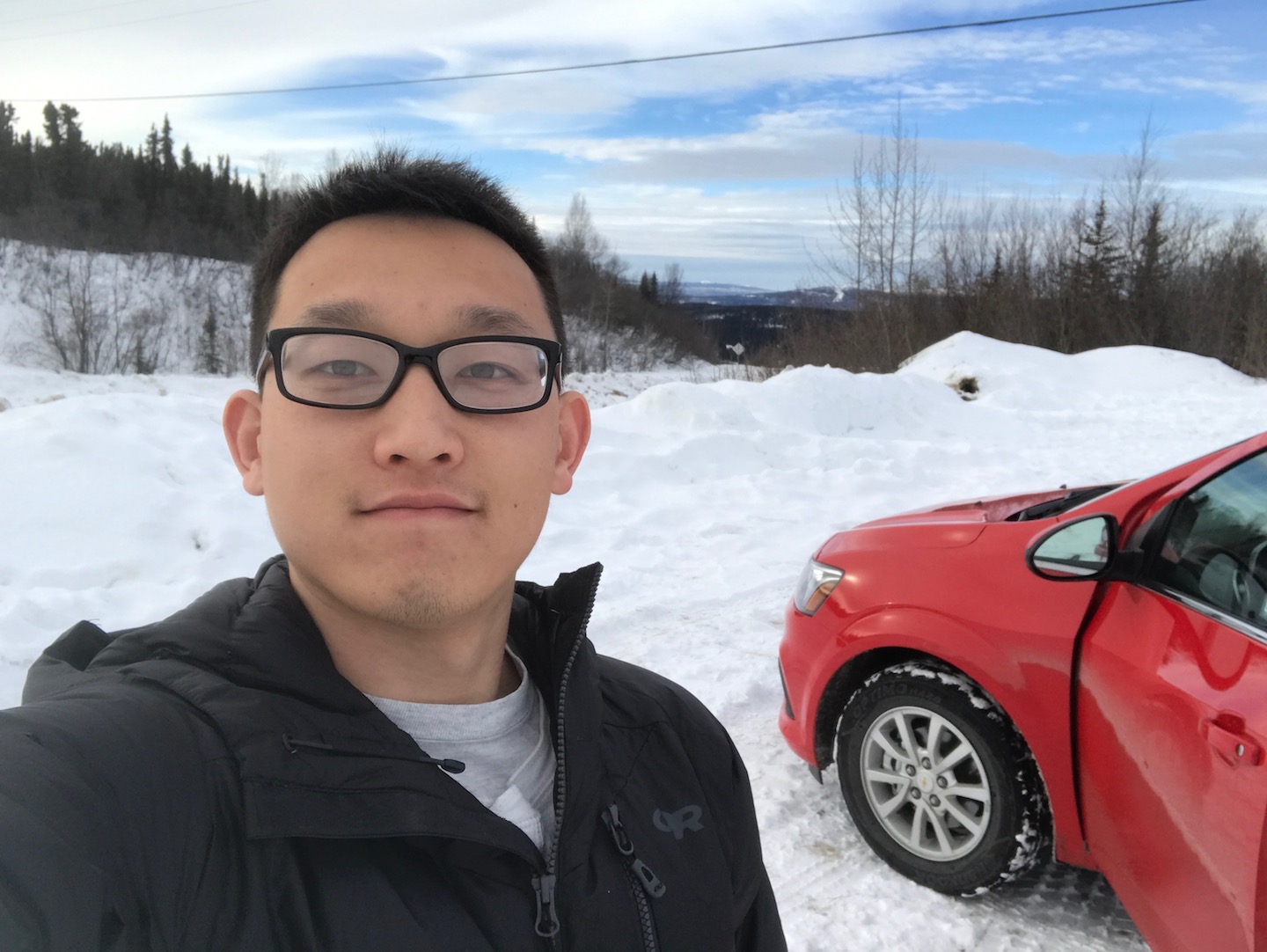 I was resting at the hostel, preparing to stay up all night to wait for the aurora, when I got a text from Eileen. She had gone to a local ice sculpting festival in town and missed the last bus, so I drove out to pick her up. We chatted some more about solo travel and got to know each other more. She was here on the Au Pair program and had just finished. Now she was spending some time traveling the U.S. before heading back to Germany for university.
Back at the hostel I waited/rested until midnight and then headed out with Eileen and a girl from Columbia who was in the living room and expressed interest in coming along. We couldn't find Liang or Wei Wei. Cleary Summit was about 20 miles outside the city and thank goodness I had driven there during the day because I would've been completely lost otherwise.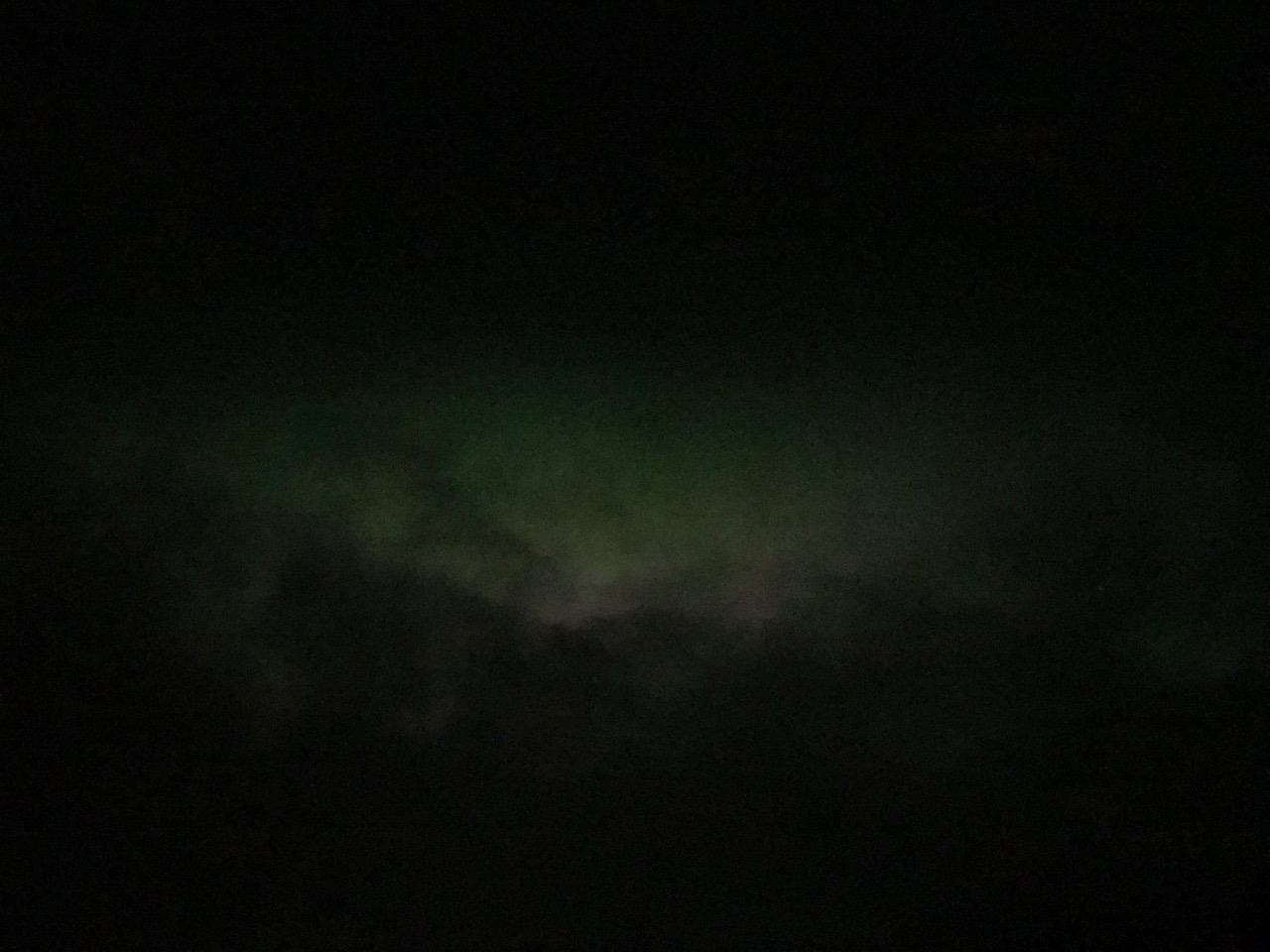 The little lot at Cleary Summit was pretty packed with about ~20 cars and folks all waiting to see the aurora. We chatted with neighboring cars, and turns out the folks who were parked right next to me were from Huntington Beach! What a small world! We stayed until 3am but only saw a few weak auroras in the first half hour, but I had a lot of fun just being there with everyone. I remember it was funny how the whole lot would get upset when someone pulled in and didn't turn off their headlights, because it would blind everyone.
Alaska Day 2 (Saturday, April 1st)
I got back to the hostel at 3:30am and only slept for 2:30hrs before having to wake up a 6am to return the rental car and get to the Arctic Circle tour that I booked. After returning the car, I walked about 1:30hrs to the tour headquarters behind the airport. The walk was really nice, I put on my Spotify playlist that I made for this trip and just enjoyed the crisp cold air and the quiet peaceful landscape blanketed in snow.
I got to the tour office and checked in, the lady at the counter was super friendly, and I made small talk with the other folks that were waiting, all of whom were were really nice.
Our tour was mostly a group of travelers from China, and a couple other solo travelers. I met Karthik from New York and an old lady from New Orleans. Patrick was our tour guide and he had this deadpan humor when he spoke about the areas we drove through and I really liked his commentary. We were headed north to the arctic circle line. The first couple hours were mostly filled with spares commentary from Patrick, the endless black and white mountainous landscape of interior Alaska, and 2 moose I saw amongst the trees by the road.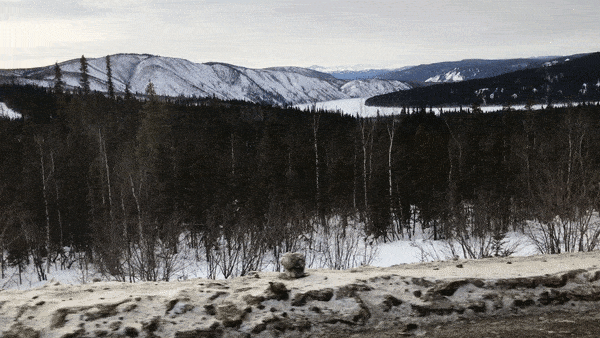 We stopped for lunch just on the banks of the frozen Yukon River, where I met Yukon Jeremy and the wilderness folks who lived around here. He offered me a ride on his snowmobile but I turned it down because I had seen him jumping off snow mounts just a few minutes ago and I didn't have the guts for it. Instead I walked about 1/4 of the way across the frozen river and took in the surroundings. Before we headed out from the rest stop I also talked to a nice old lady who lived in the wilderness near Yukon river, I think she's Yukon Jeremy's mom and she makes little crafts to sell to travelers for a living. She moved here from Minnesota with her high school sweetheart but he passed away. They run an aurora lodge near the Yukon river.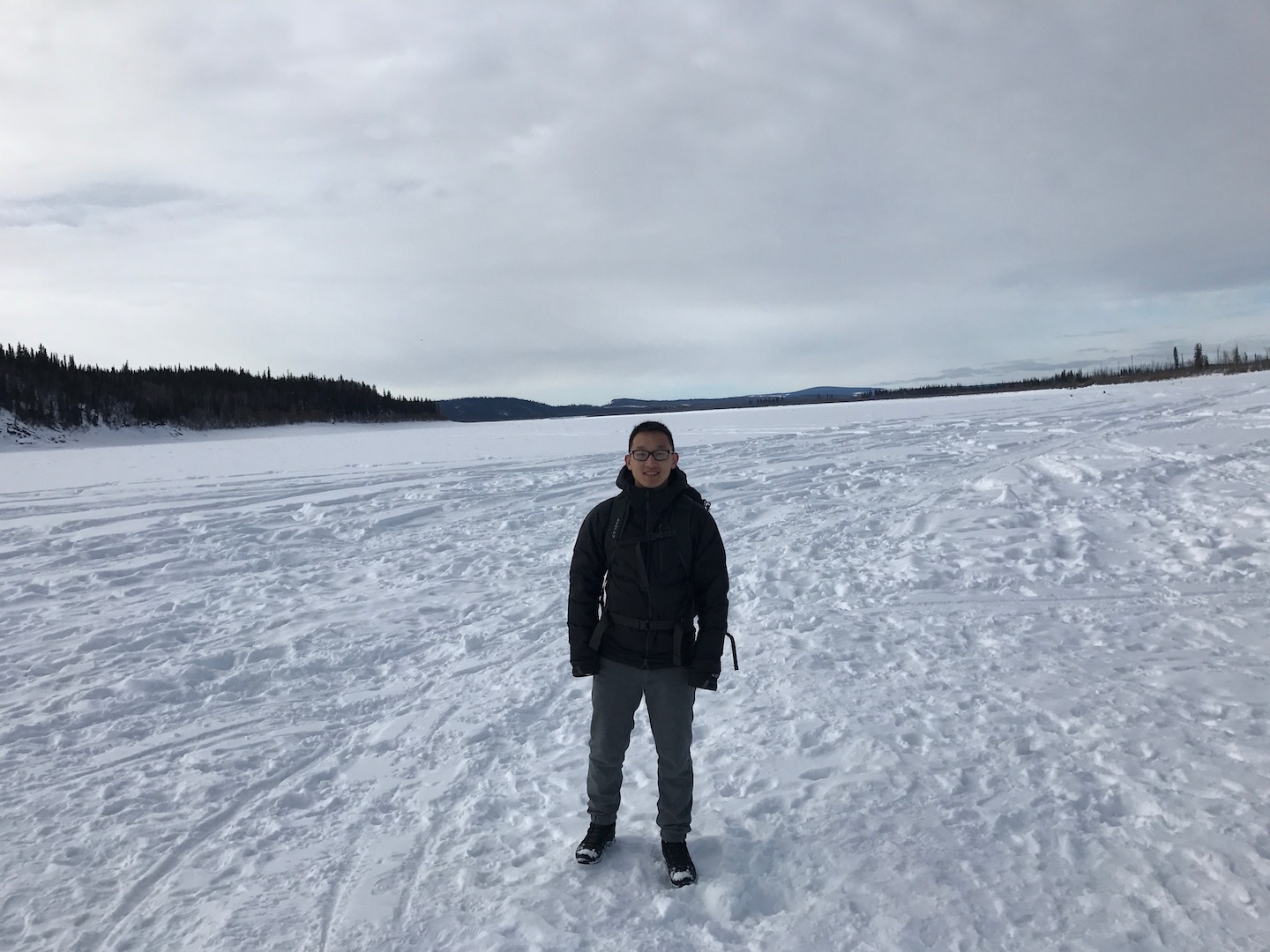 There were a couple other stops after the river before our destination.
We stopped and refilled water at a spring well along the Dalton Highway.
Did some trekking through a little icy mountain trail near finger mountain. This area looked like what I imagine Antarctica to look. It was flat so you can see around to for miles, barely any vegetation at most some little shrubs. Patrick let me try out his snowshoes here.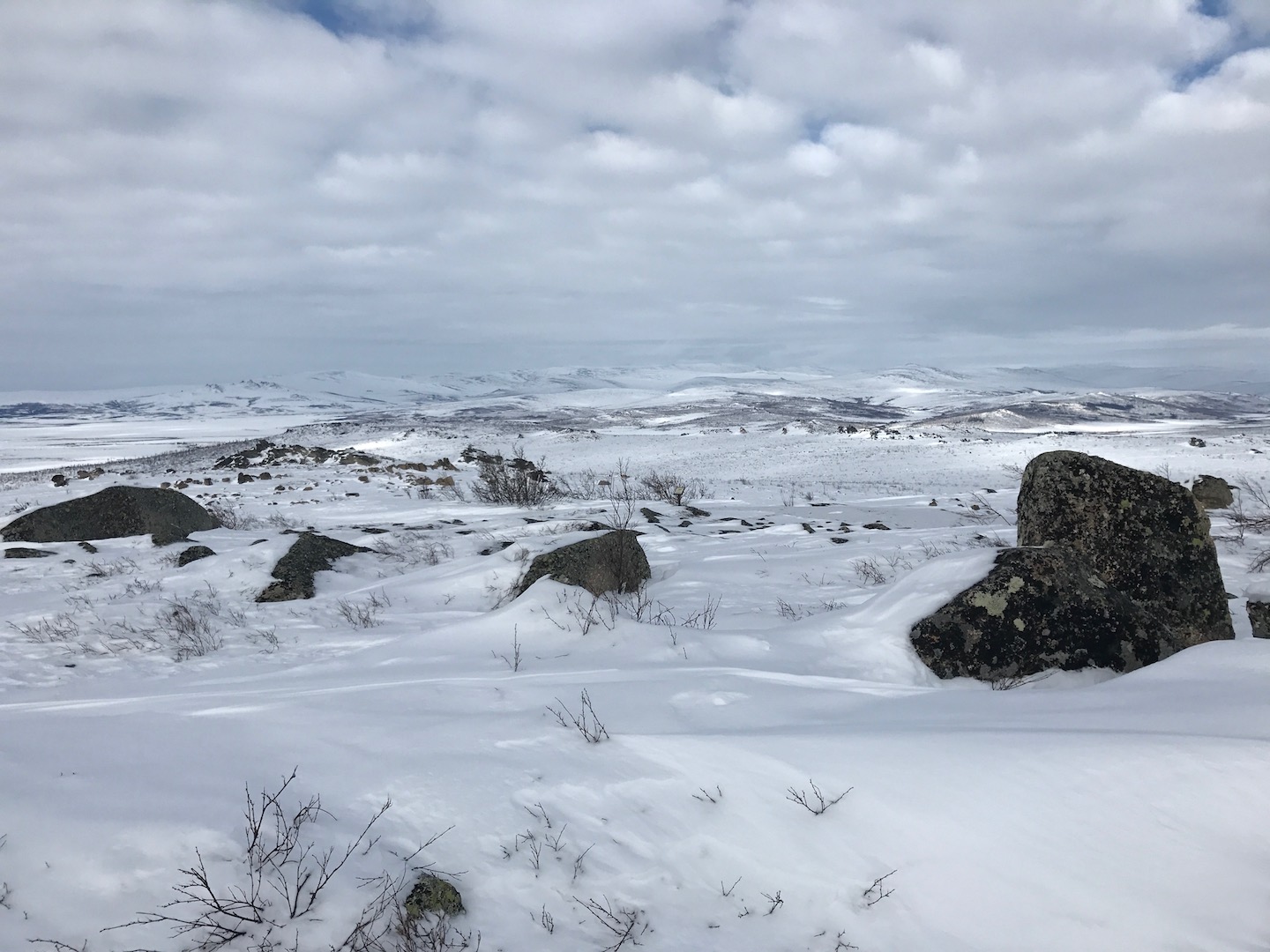 Eventually we made it to the arctic circle after about 8 hours since departing. We took some pictures and spent about 15 minutes here. It was mostly a checkbox item more than anything as the surroundings looked the same as what we had driven through for the past couple hours.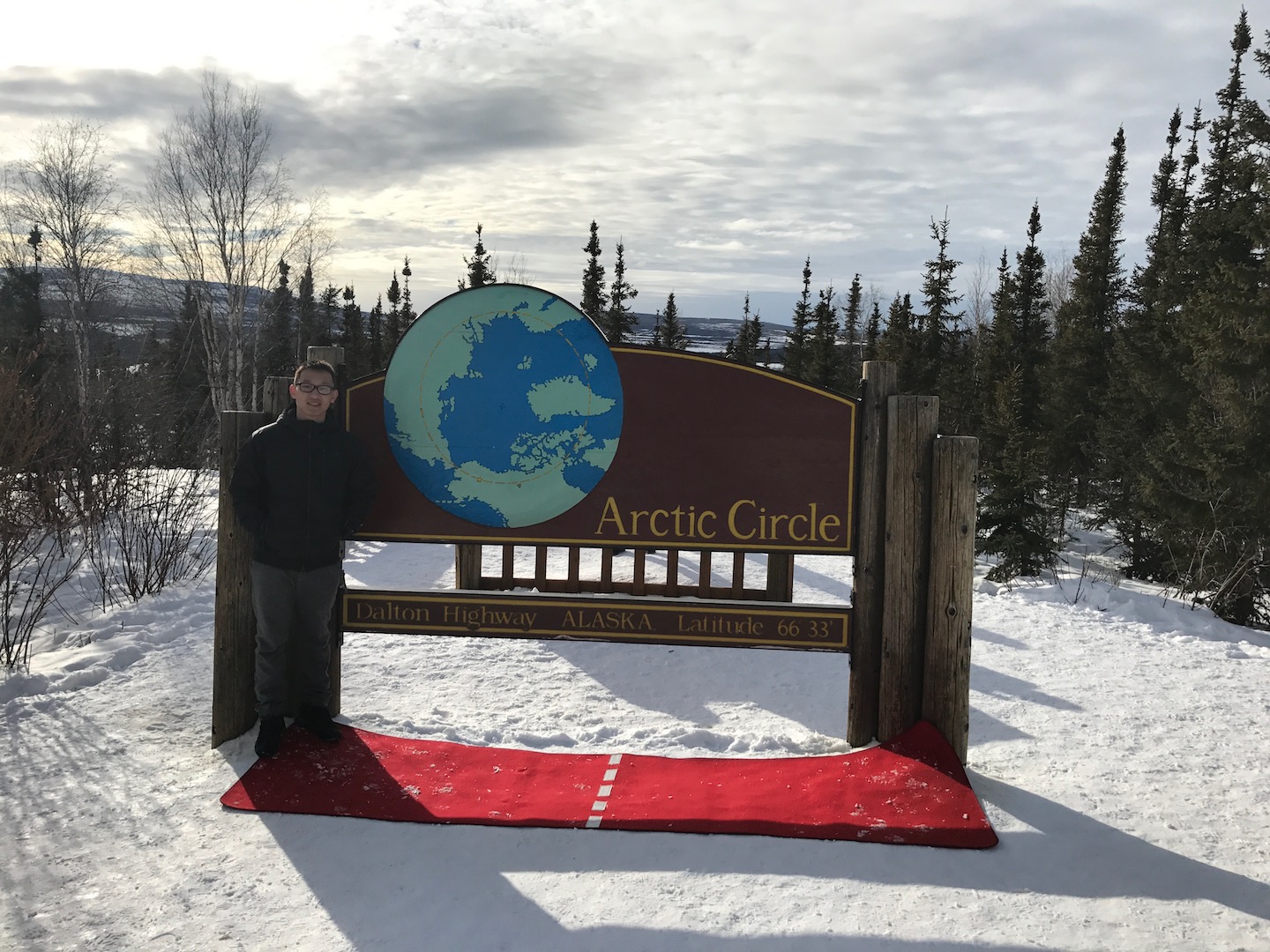 On the way back we stopped at the Yukon river camp again, I didn't eat, instead I sat alone by the Yukon river for about 20 minutes just listening to the silence and taking it all in. It was really meditative and peaceful. I was going to walk across the river and back but the snow was so deep on top of the river ice, plus I heard a couple pops beneath the snow almost like the ice was popping/hissing/cracking? I was afraid of falling through the ice especially since there was absolutely no one around. If anything happened I would've been on my own. So I just sat there, I listened to music and watched the last bits of light from the sun fade behind mountains. Now if I listen to that song (Wake Me Up - Jessica Mauboy) I feel like I'm there again.

Before we left the Yukon river, headed back to Fairbanks, I took a photo with our tour guide Patrick (he asked me to not post the photo anywhere though) and ate a couple more nuts and energy bars (I was getting really sick of them now). However on our way out of Yukon river camp our bus got stuck in the ice/snow and some of the folks working at the little rest stop got out a bag of dirt/gravel and dumped it around each wheel to give it more traction so we could drive out of the ice. Thank goodness Patrick and the rest stop staff were there because our tour group was honestly quite helpless and we were 5 hours away from any city, at night, in the middle of Alaska.
We got to our last stop on the tour at around 11:30pm. It was a half cabin half gift shop where we could rest and wait for the aurora, but I was mostly excited that they had cup noodles, since I had run out and was sick of my nuts and bars. We stayed there until 2am waiting for the aurora to come out, but it was very cloudy that night and it didn't clear up until a few minutes before we had to go. We only saw a tiny bit of a weaker aurora.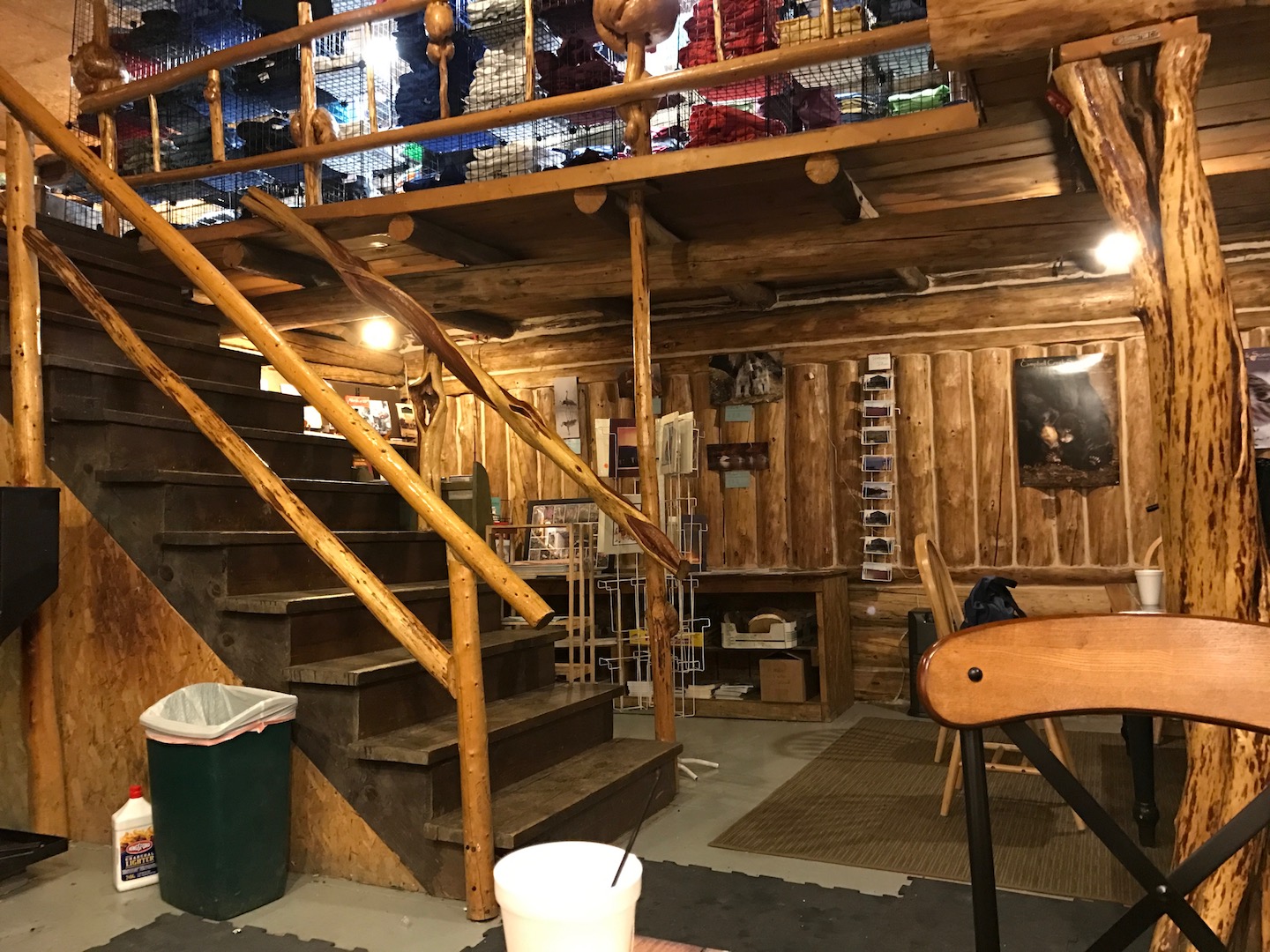 I ended up getting back to my hostel around 4:15am. Slept in till 9:30, before today the most I had really slept was about 30mins! Packing right now to head out at 11. I'm running slightly low on my food so I might have to grab some food as I make my way through town today to the airport.
Alaska Day 3 (Sunday April 2nd)
I slept 'in' until 9:30am. Before today the most actual sleep I had was probably about 30 minutes. I packed my things and headed out from the hostel at 11:00am to slowly make my way over to the airport. I wasn't in a hurry, so I meandered around town. I walked through an sparse indoor mall, and then it started raining a bit so I took shelter at a McDonalds, charged my phone and got a McChicken.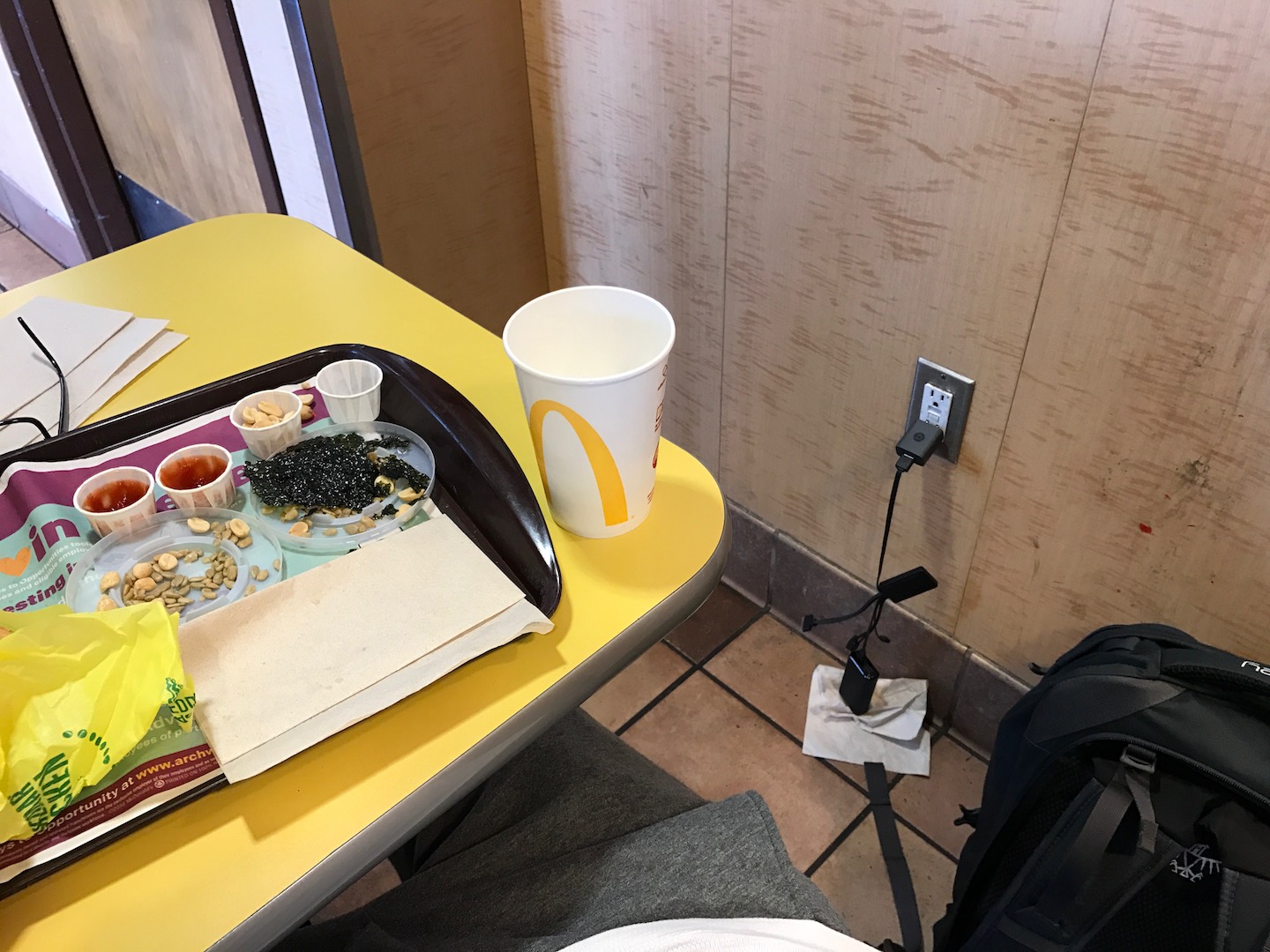 Sitting there at McDonalds waiting for the wait to stop, I had some time to reflect on my trip. I thought that I was really lucky seeing the aurora the way I did on the plane. I kind of got spoiled and expected that level of aurora from the ground. From what I heard from other people I met there, what I saw from the plane was pretty extraordinary. Each night I was in Alaska, the auroras got fainter and fainter. That first night on the plane, they were amazing. I saw the shimmer up close in detail and saw them in 2-3 different colors: a dull gray, green and slight red/purple, the second night on Cleary Summit, I saw a fair bit of the aurora although mostly a small tail that was slightly greener than what I saw from the plane, there were some clouds that interfered and it was brief. The last night the aurora very faint and indistinguishable from light pollution on low clouds.
I left the McDonalds an hour or 2 later. I accidentally walked to a dead end, and had to cross a major highway, but I finally got to the airport around 5:30pm for my 9:45pm flight. I had tons of time to kill so I went to the car rental booth to make sure everything was good because I didn't get my receipt. It was fine. I then waited at the chairs in the lobby of the airport until about 7:15pm.
I got restless and decided to just check in early. I couldn't find my flight in the check in booth and got confused so I asked the person working the desk, who told me that my flight had gotten canceled! Luckily he was able to get me on the next and last flight out of Fairbanks for the night leaving in 10 minutes. It was to Anchorage, Alaska and from there I would have more options to try and get back to Los Angeles. Thank goodness I tried to check in early. Had I missed that I would've been in stuck in Fairbanks for the night.
The airport was small and empty so I ran through and caught the flight and it was a great flight too. There was still light out and we flew right over Denali and I got a decent look at the highest mountain in the United States! The people sitting around me seemed like experience mountaineers too and I learned a lot of cool information about climbing Denali from listening to their loud conversations.
I arrived in Anchorage a short while later with just enough light to see the majestic mountain range that surrounded the city outside of the glass panes of the airport. I quickly found the Alaska Airlines desk and they were super helpful in helping me find a new itinerary back to Los Angeles. I'd be taking a flight to Portland, then Portland to LAX, and I'd still arrive Monday morning.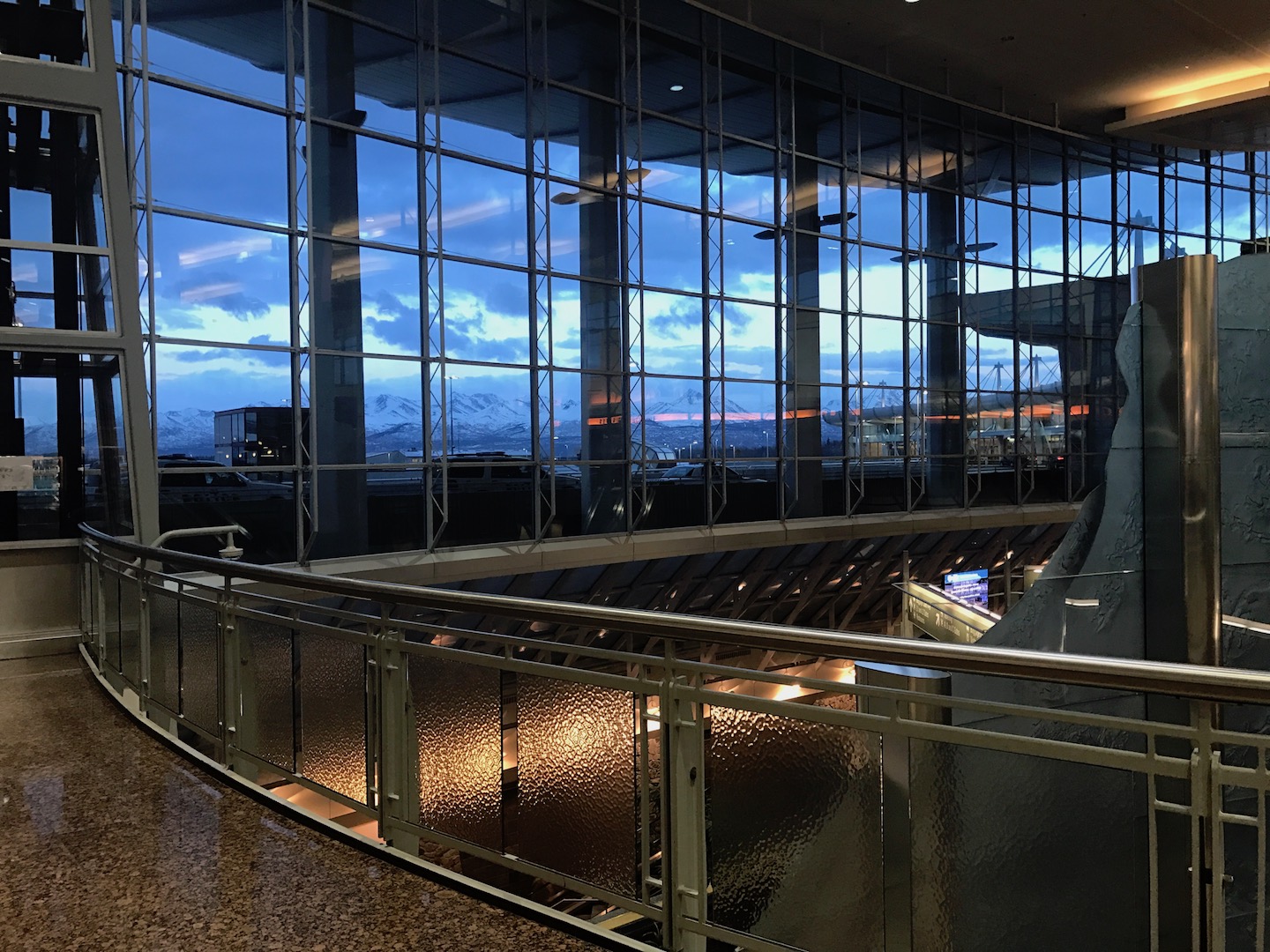 After that was settled I had to go get a better look at those mountains surrounding the city, so I went outside to the top of the airport parking structure to get a better view. Met a nice fellow on the elevator who told me a little about the mountains and about 'table top mountain' which was a popular day hike in the mountain range. I may just have to come back one day and do that hike. I stayed up there taking in the breathtaking view of the massive snow covered mountain ranges that circled the city, until the last bit of light faded and I couldn't see anymore. It was the perfect way to close out my last day in Alaska.

I don't remember too much of my flights back because I was sleep deprived and exhausted. But looking back at the logs I wrote, I found this gem:
[The] Anchorage to Portland flight was extremely uncomfortable, wedged between two large men in the middle seat with the plane at an uncomfortably hot temperature.
I also remembered seeing a couple people from my Arctic Circle tour in Fairbanks eating at a Mcdonalds in PDX while waiting for my flight to LAX.
I didn't get much sleep on my flight back. I arrived in Los Angeles at 9:00am and drove straight to work. I figured I set the record for the longest commute to work that day. I was exhausted, but really proud of myself for make the trip. It may have not been the most optimal and I think I tried to do too much in too short of a time span. But it was my first truly solo trip and I learned so much, met so many people, never once felt lonely, and experienced unforgettable natural beauty, that I wouldn't have had it any other way.
I'm glad I took the first step.