Trekking to Everest Base Camp was the only thing I had booked and planned for on this big trip before I left California. It was a magnificent 2 week trek full of challenges and experiences that pushed my limits. During my time on the mountain I set a lot of personal records: I went without any internet for 11 days, went without meat for 2 weeks, without a shower for 11 days, slept at 5164m (16,942ft) above sea level and reached 5364m (17,598ft) above sea level. I also walked the most I had ever walked and saw some of the most majestic mountains and valleys on earth, as I limped my way to and back from Everest Base Camp.
---
Day 1 of 13: Kathmandu -> Lukla (2,860m) -> Phakding (2,610m)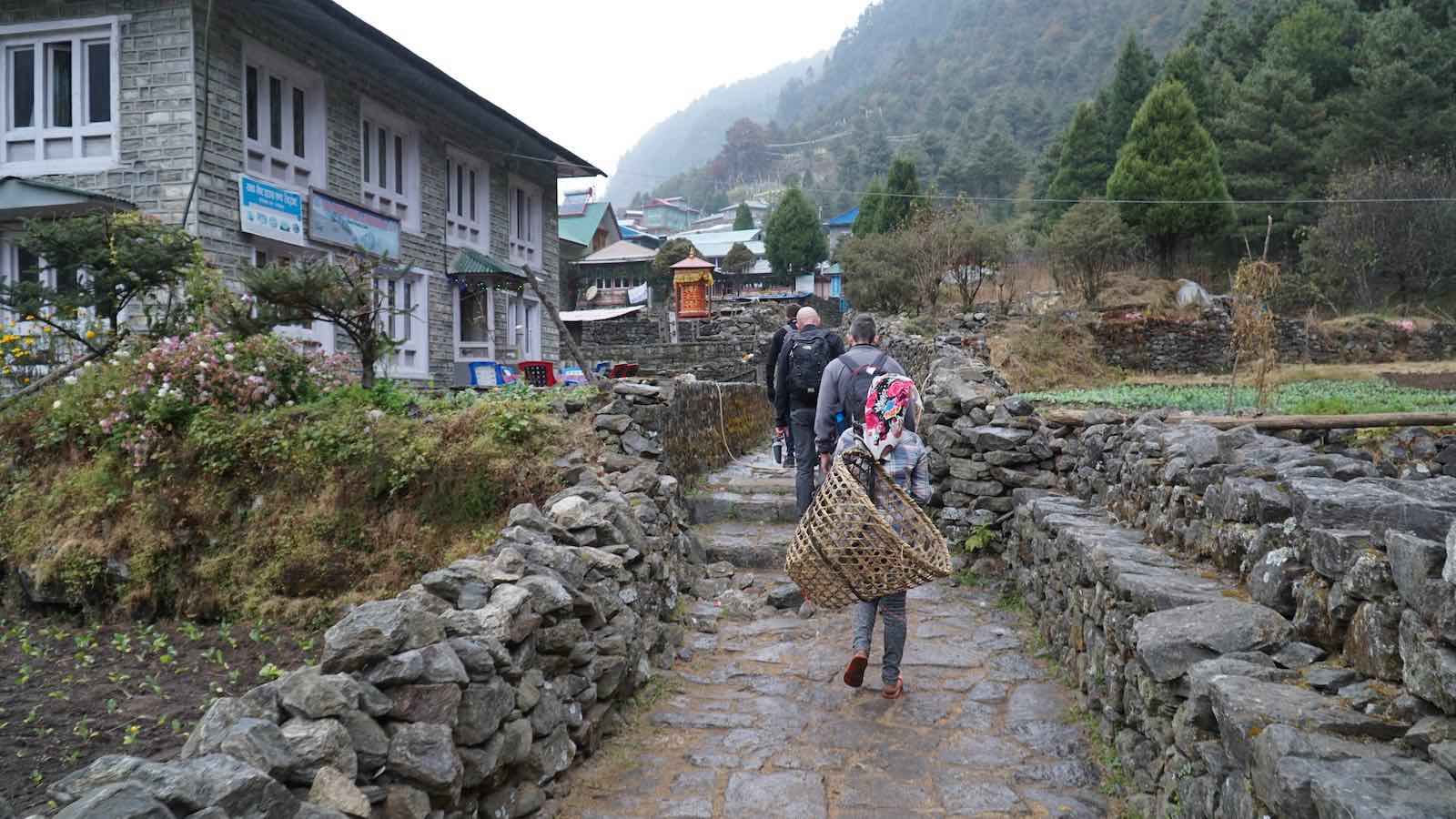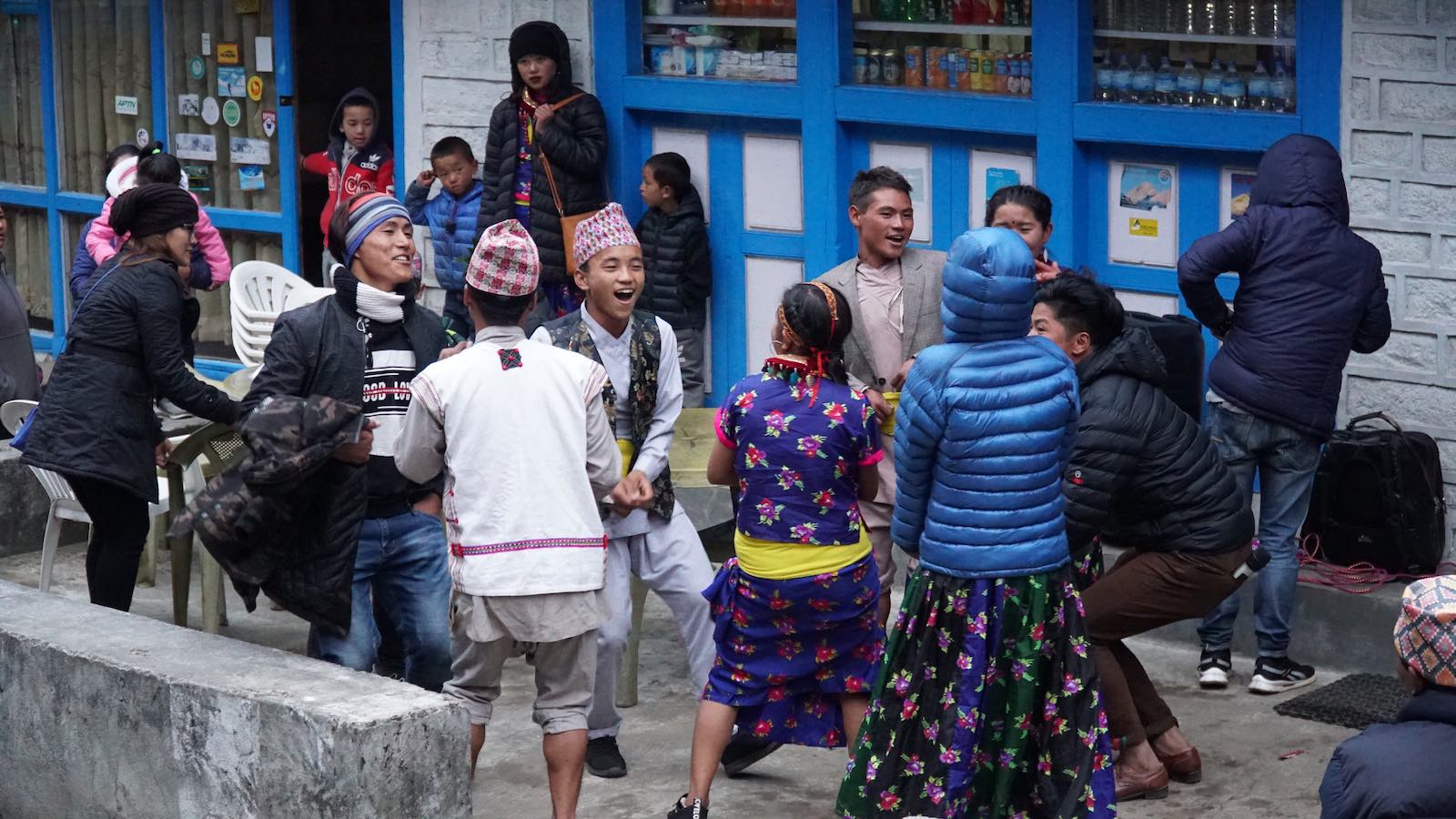 First day of the trek and I was very excited! Which meant I didn't sleep well at all the night before.
Was off to the airport at 5am, but our flight to Lukla, a village in the mountains that was the starting point for the trek, was delayed by 6 hours due to bad weather at Lukla. It's touted as the world's most dangerous airport so I was perfectly fine with them waiting until the weather was good before flying in.
Once we got to Lukla we did a short 3 hour trek to Phakding where we were spending our first night. It wasn't bad, mostly downhill and through a lot of little villages.
Met some other trekkers at the teahouse we stayed at and played a card game called 'Bonkers' with my trekking group, and got to know them better.
---
Day 2 of 13: Phakding (2,610m) -> Namche Bazaar (3,440m)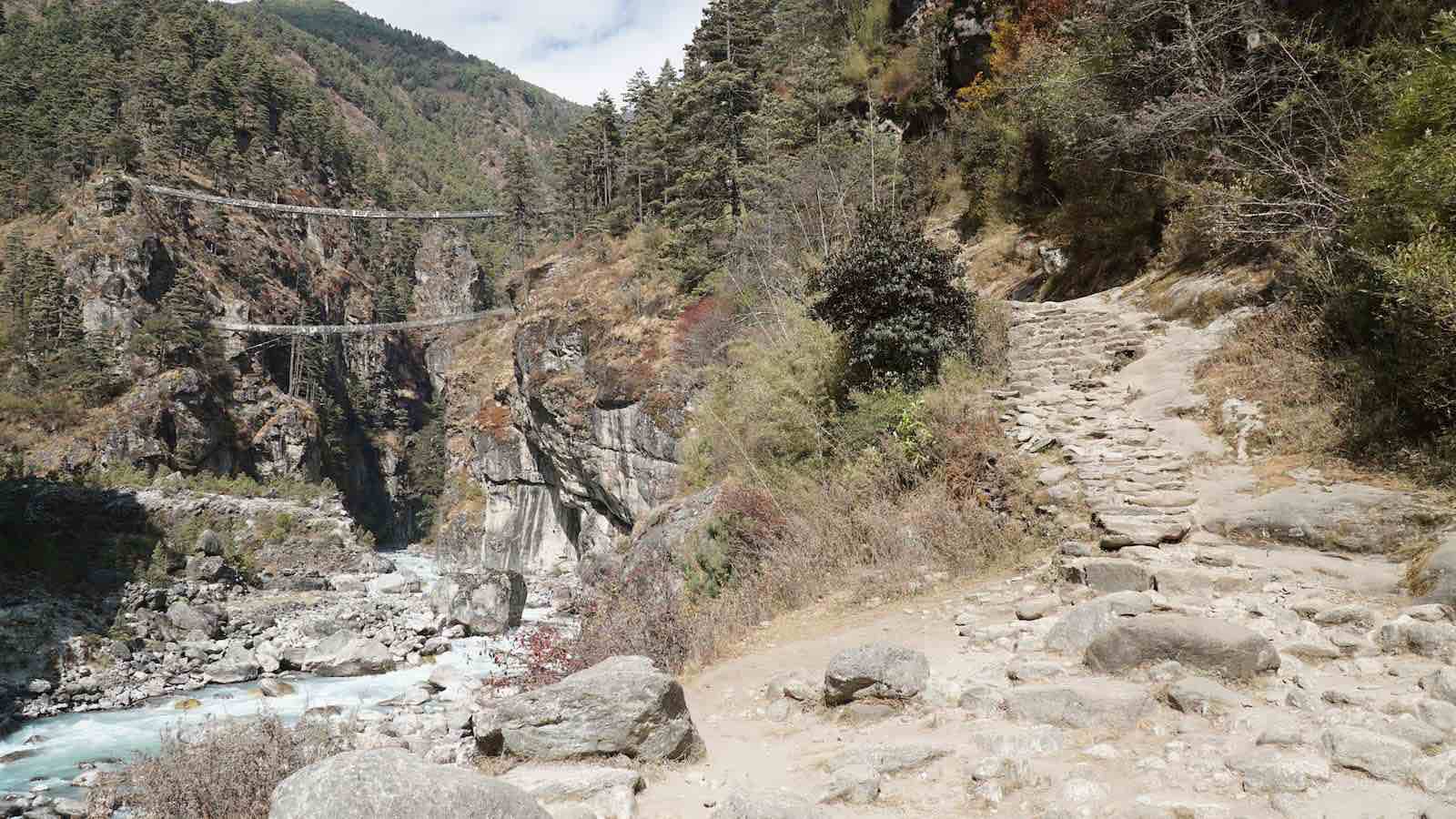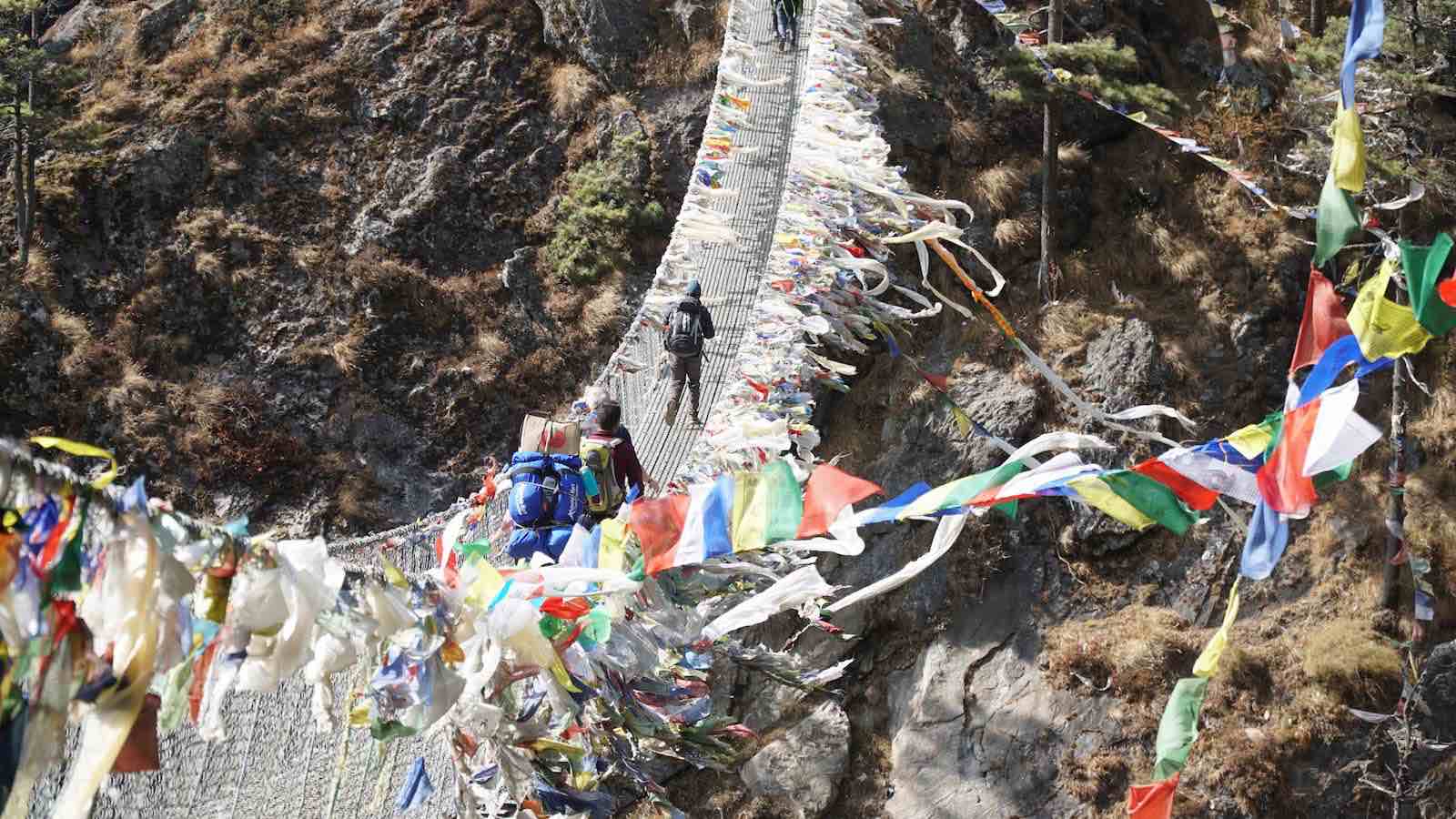 Started the trek to Namche in the morning, weather was clear and great, finally saw our surroundings since yesterday was too overcast, the mountains flanking the valley were enormous and we were trekking alongside a baby blue river.
The last hour of the trek was extremely tough with a lot of ridiculously steep switchbacks, my first taste of how tough this trek was going to be.
The switchbacks made my left knee start acting up again, which was a disaster and made me really worried about whether or not I would make it all the way without doing some heavy damage to my knee. A month ago I had injured it when I stupidly ran down a mountain in New Zealand because I was feeling good. I thought it was healed but it reared up again due to the ~5.5hr trek today.
Also felt a slight headache as I was resting in Namche, likely from the altitude.
---
Day 3 of 13: Acclimatization/Rest Day - Namche Bazaar (3,440m)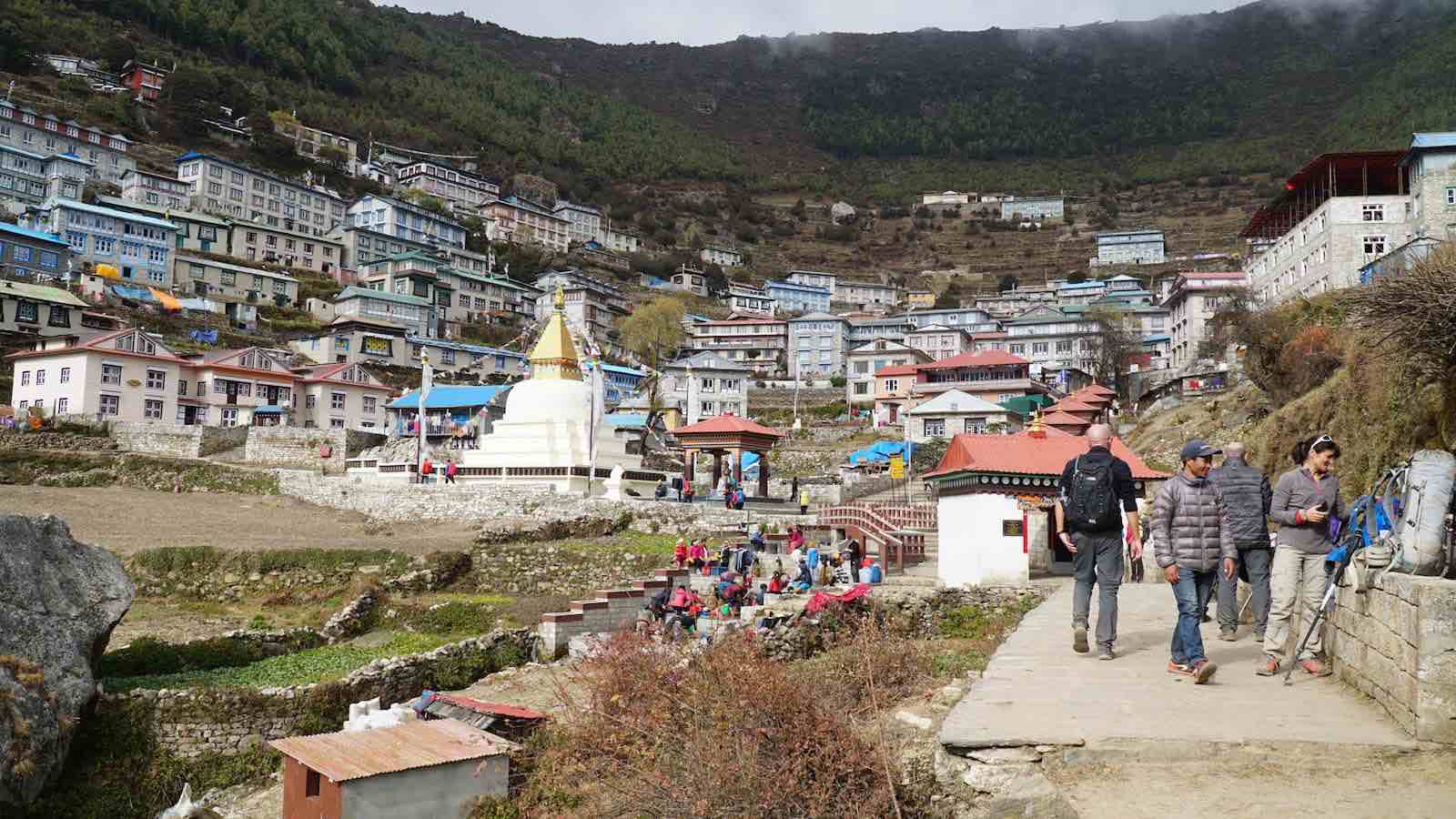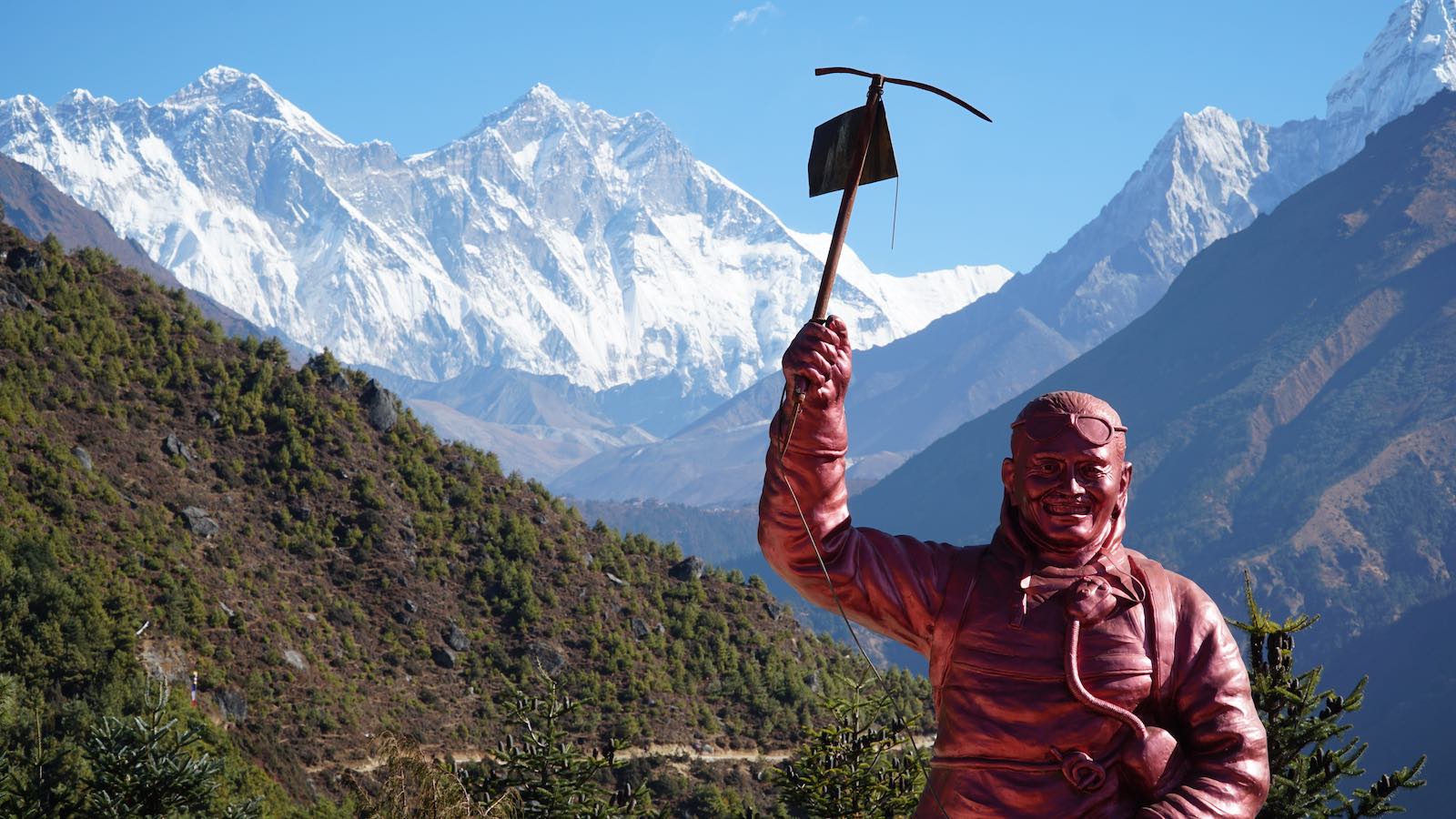 Did a 'short' 3 hour hike to a local viewpoint, it was about a 400m elevation gain, which would help with acclimatization, but there were a lot of steep steps which made my leg act up immediately.
I was really worried because it seemed like my leg was getting worse due to all the tough trekking. It was super strained and I couldn't move it without a sharp pain. I don't know what's going on but the upper/outer calf muscle next to my left knee feels like it's torn or something. I can't bend my left knee without a sharp pain through the knee/muscle.
I went straight to bed after the morning hike to rest my leg.
All I could think about today was what would happen if my leg kept getting worse day by day. The hardest parts of the trek were ahead, and I was having second thoughts on whether or not I could make it with a bad leg.
Later in the day I bought some trekking poles to help take some strain off my leg.
Everybody in my trekking group (3 other people) started taking Diamox today for the altitude after hearing a girl's stories of altitude sickness later on in the trek. I decided to not take any, I wanted to see what my body could do on it's own and I rarely take medicine for things unless I feel like I'm dying, and I was feeling fine.
---
Day 4 of 13: Namche Bazaar (3,440m) -> Tengboche (3,860m)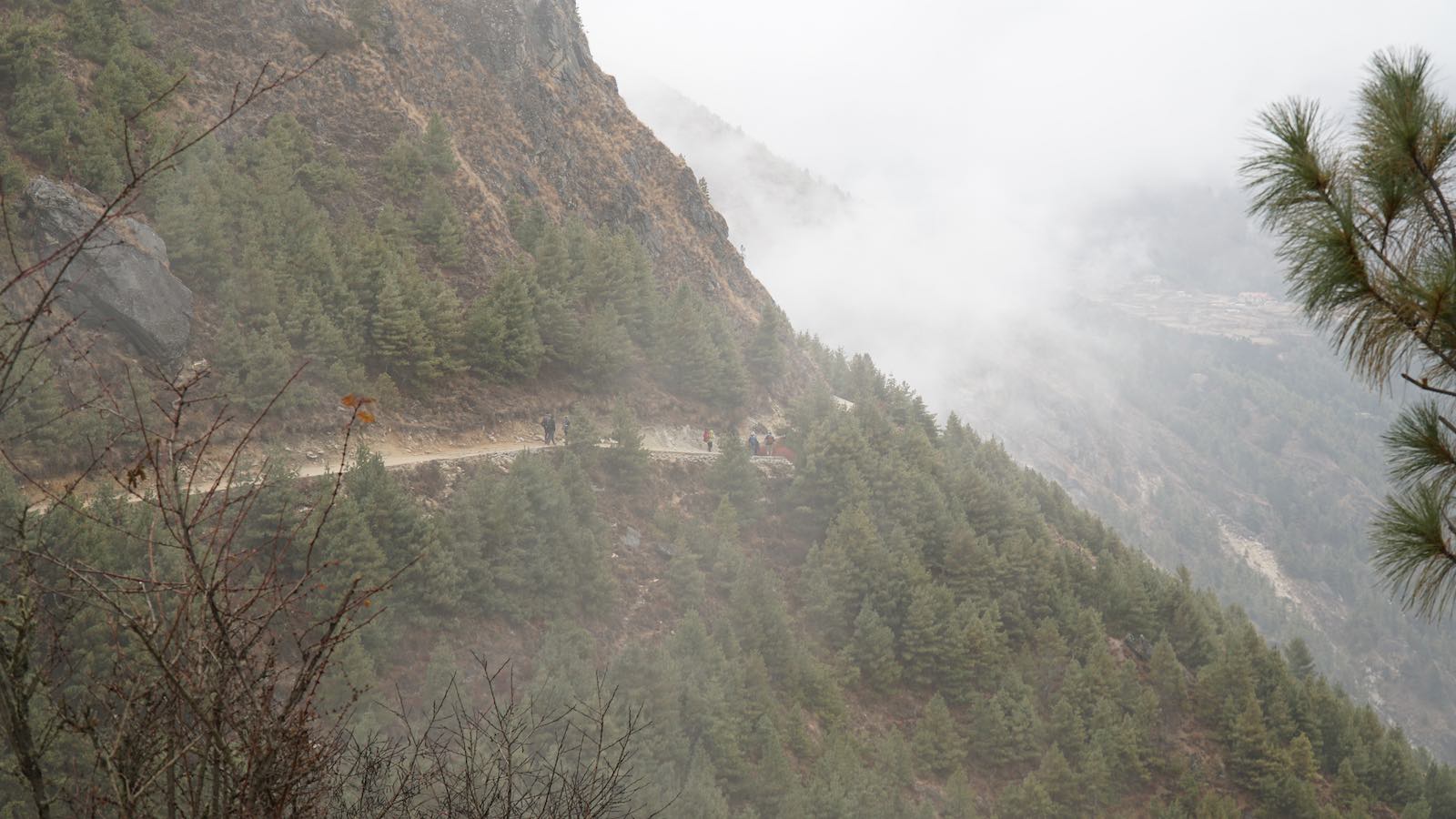 Another big trekking day ~5-6 hours, and the trekking sticks helped a tremendously, although I fell behind my group but I didn't mind because I wanted to pace myself and conserve energy. I could not risk my leg getting any worse.
A lot of fairly steep ups and downs today too, felt some more slight headaches today but I was managing them by controlling my breathing, finding a good rhythm and consciously breathing faster and deeper.
Felt some confidence come back after I made it to Tengboche without making my leg worse. I think I had definitely underestimated this trek initially and thought that it would be fairly straightforward, but now especially with the extra challenges presented by my leg, I'm excited to try and overcome the challenge and still make it to base camp.
It was starting to get extremely cold now I think temperatures were about -5 to -10 Celsius.
---
Day 5 of 13: Tengboche (3,860m) -> Dingboche (4,410m)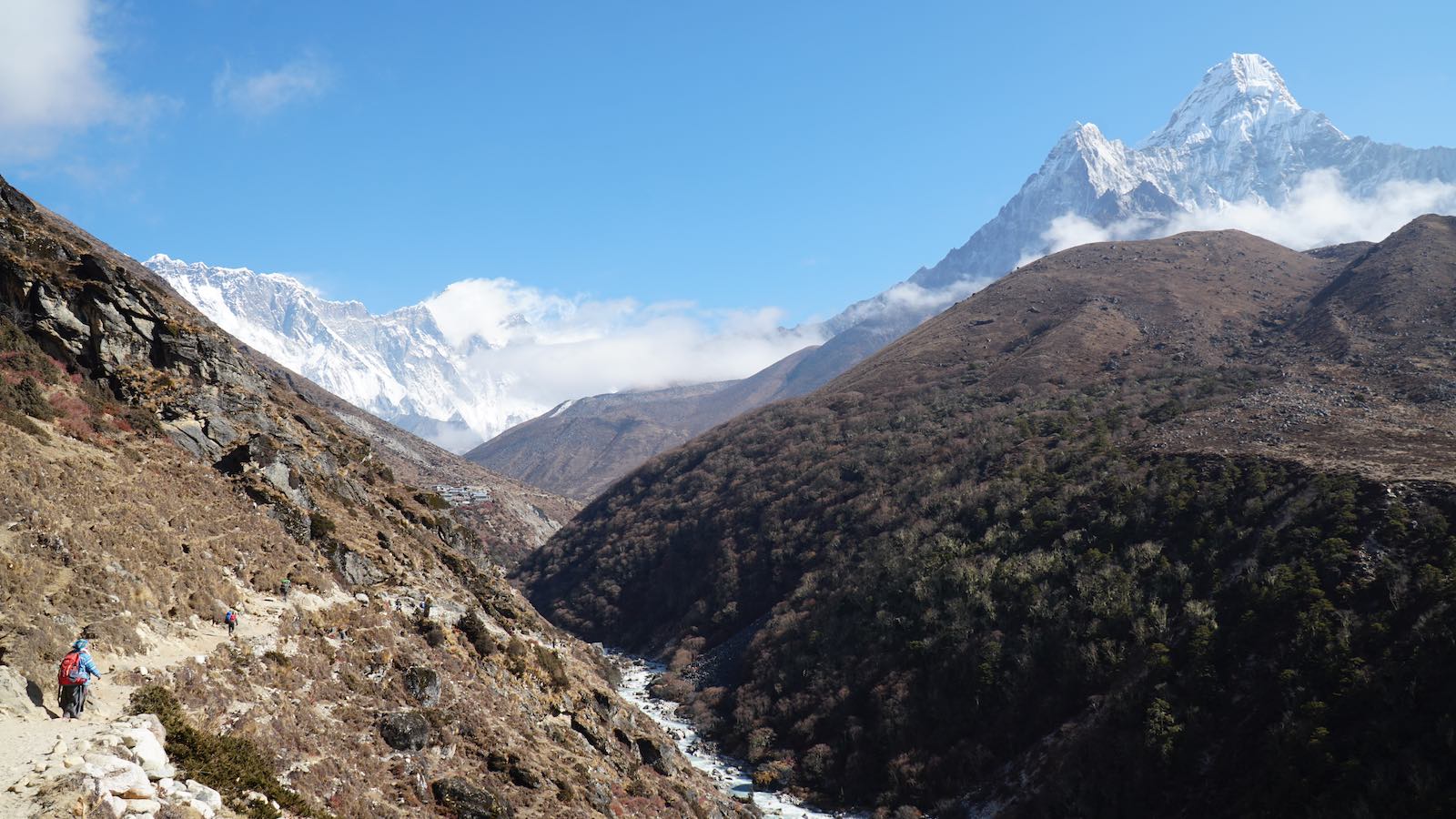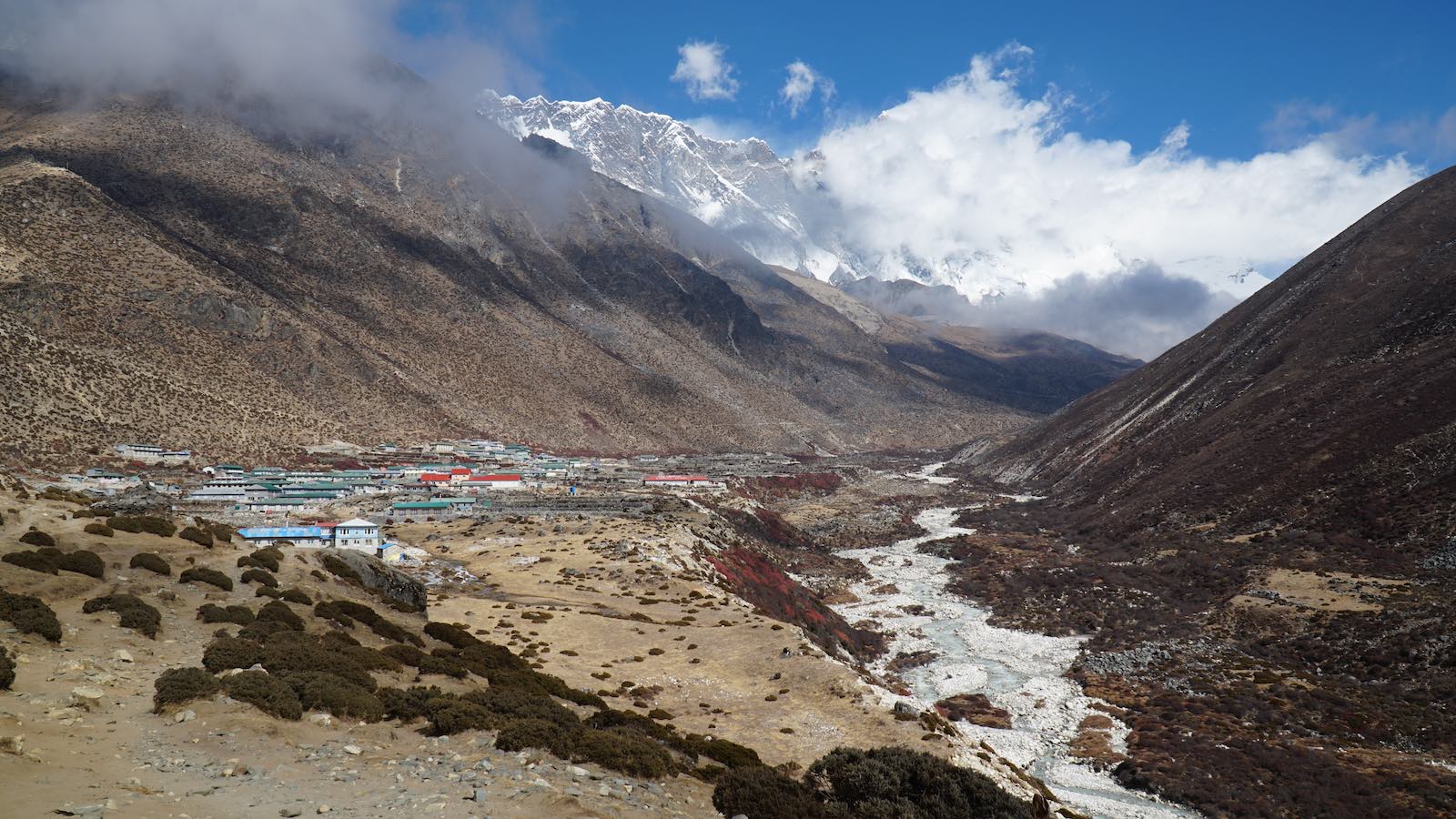 Today's trek was about 4.5hrs as we decided to skip the usual lunch break we take in the middle.
I got the hang of my trekking sticks today and could get into a pretty natural rhythm. I had a lot of fun pretending I was a spider or 4 legged animal.
During the last ~40% of the trek I got extremely tired due to the lack of oxygen, I started going really slow.
Felt some mild headaches kick in and some dizziness as I was resting in the afternoon. Symptoms of the altitude.
I also realized today that I threw away the only contact lens case I brought with me to the mountain yesterday night. (I had dropped it in the sink and that sink was gross so I decided to just chuck it, thinking I had another case). I can't wear glasses because they instantly fog up due to the cold and I can't see a thing. I'll have to create makeshift cases out of the plastic packaging that my contacts come in.
---
Day 6 of 13: Acclimatization/Rest Day - Dingboche (4,410m)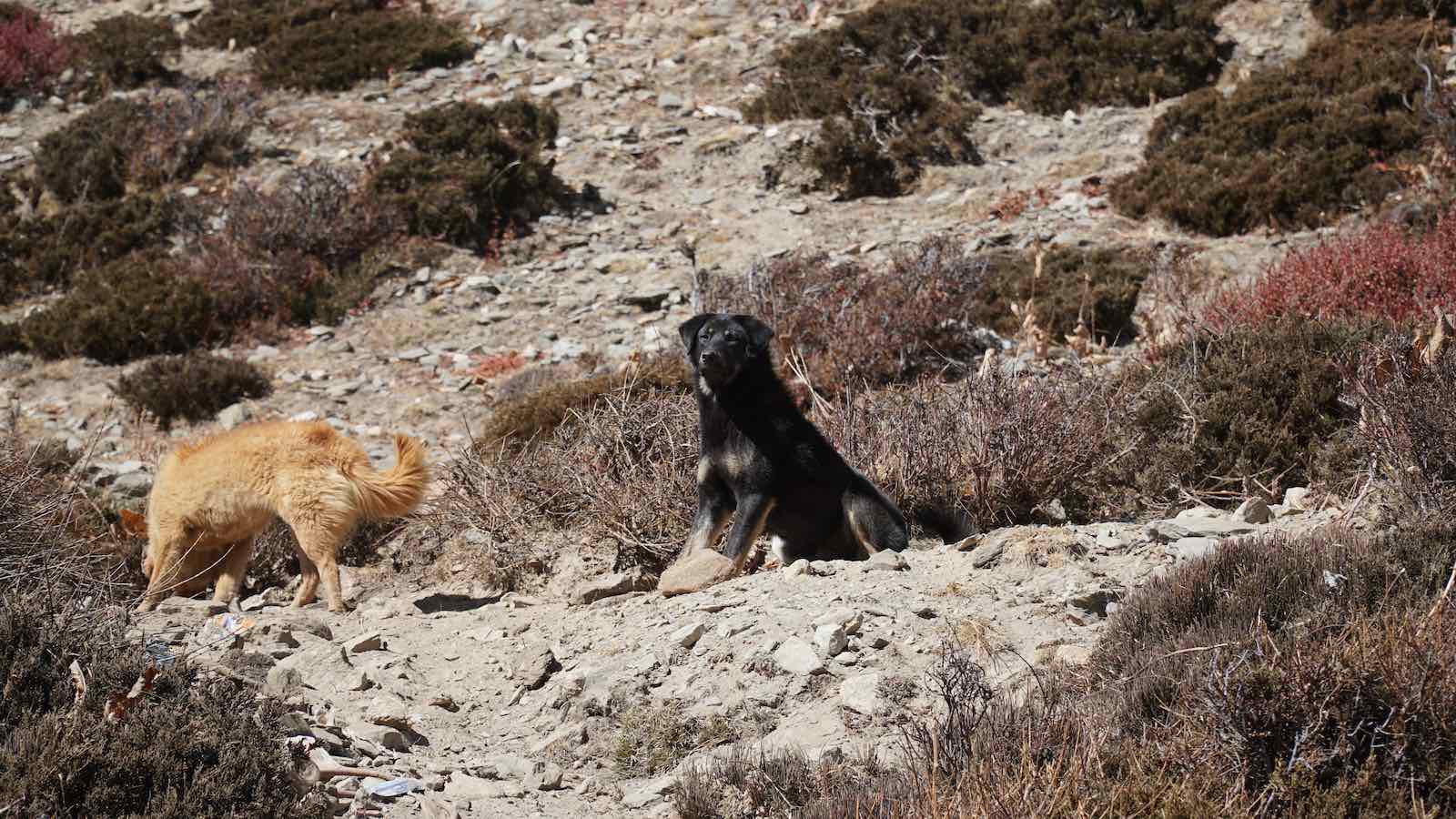 Another 400m elevation gain hike in the morning to a viewpoint on this rest day. It was ridiculously steep and I was really feeling the lack of oxygen, I was panting within the first minute.
Views were stunning though and I spent a lot of time taking it all in and taking a lot of photos.
Rested the rest of the day, but had a rough sleep. My mind was super awake thinking about this trek and how differently I'm living here on the mountains: I hadn't used any internet now for 6 days, no meat for over a week, no shower for 6 days now too. I kept having to go to the bathroom at night too, I was drinking a lot of water to try and keep myself hydrated and keep the headaches away.
---
Day 7 of 13: Dingboche (4,410m) -> Lobuche (4,910m)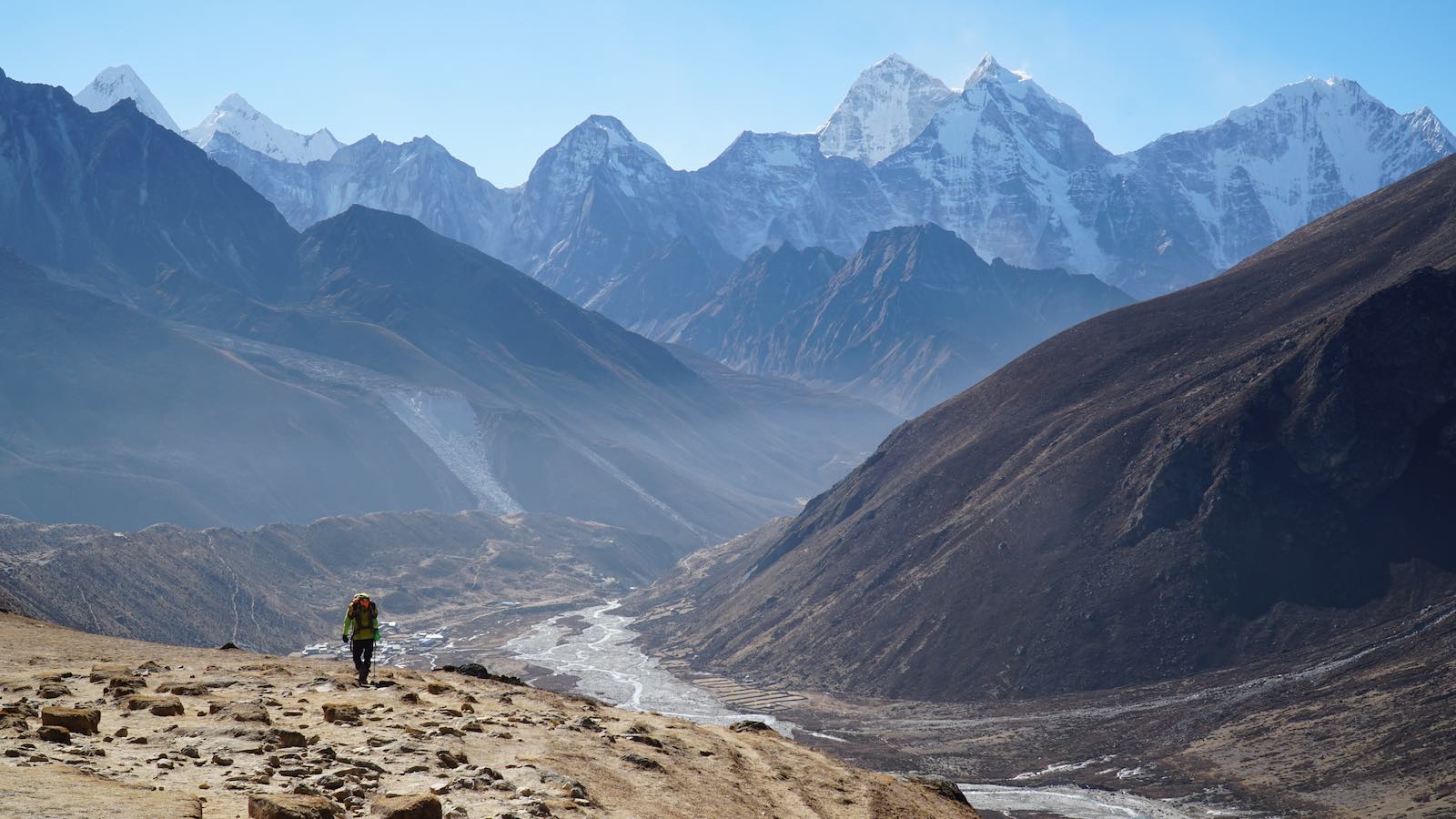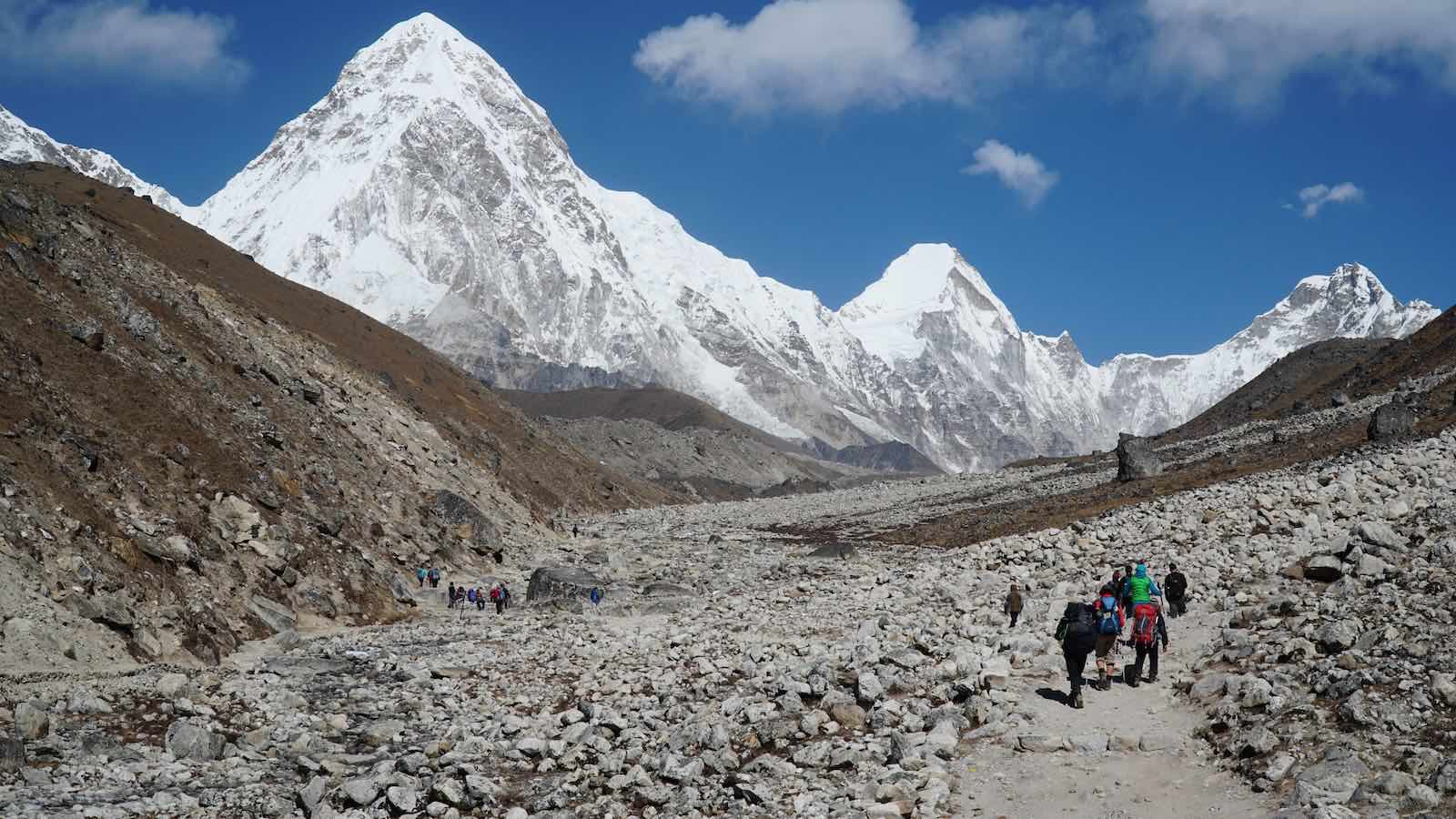 Today was a difficult trek for me, I think I took about 6 hours. The lack of oxygen was really apparent and I had to pace myself heavily to try and avoid headaches.
I decided to listen to music the whole time and try to zone out and walk on autopilot.
I was running a pretty decent headache once I got to Lobuche, and my appetite wasnt too good but I forced myself to eat a lot of Dal Bhat and Garlic Soup. I may have eaten too much though because I felt extremely stuffed and tired afterwards.
Everything little thing I had to do, like getting into bed, or getting out of bed, or packing my stuff, felt like it took more energy than I had and it would trigger a round of throbbing headaches.
Tomorrow is the day when we go for Everest Base Camp, I just need to make it through one more day.
After dinner though my headache kicked into full gear and it was head splitting. Easily the worst headache I've ever had. I was devastated. If this didn't magically clear up by morning, then there was no way I could continue. Any movement I made would exacerbate the headache and I couldn't walk to the bathroom without feeling like someone was shooting me in the head with each heartbeat.
I took 125mg of Diamox before bed, and laid there wondering what I was going to do tomorrow.
I got sad that night, I was pretty sure I wasn't going to be able to make it to base camp because of this, and I was trying to tell myself it was okay. But I was so close.
---
Day 8 of 13: Lobuche (4,910m) -> Gorakshep (5,140m) -> Everest Base Camp (5,364m) -> Gorakshep (5,140m)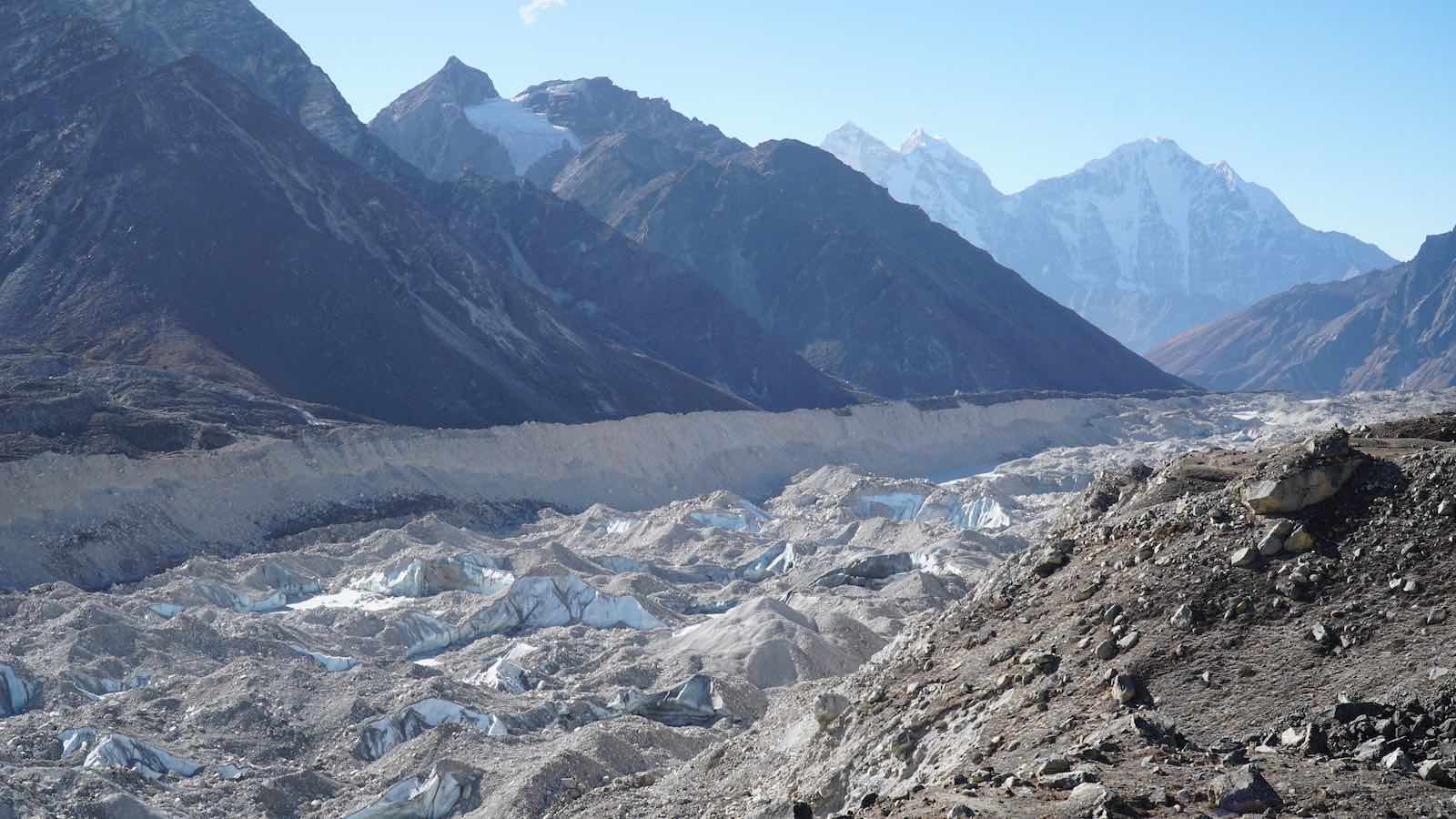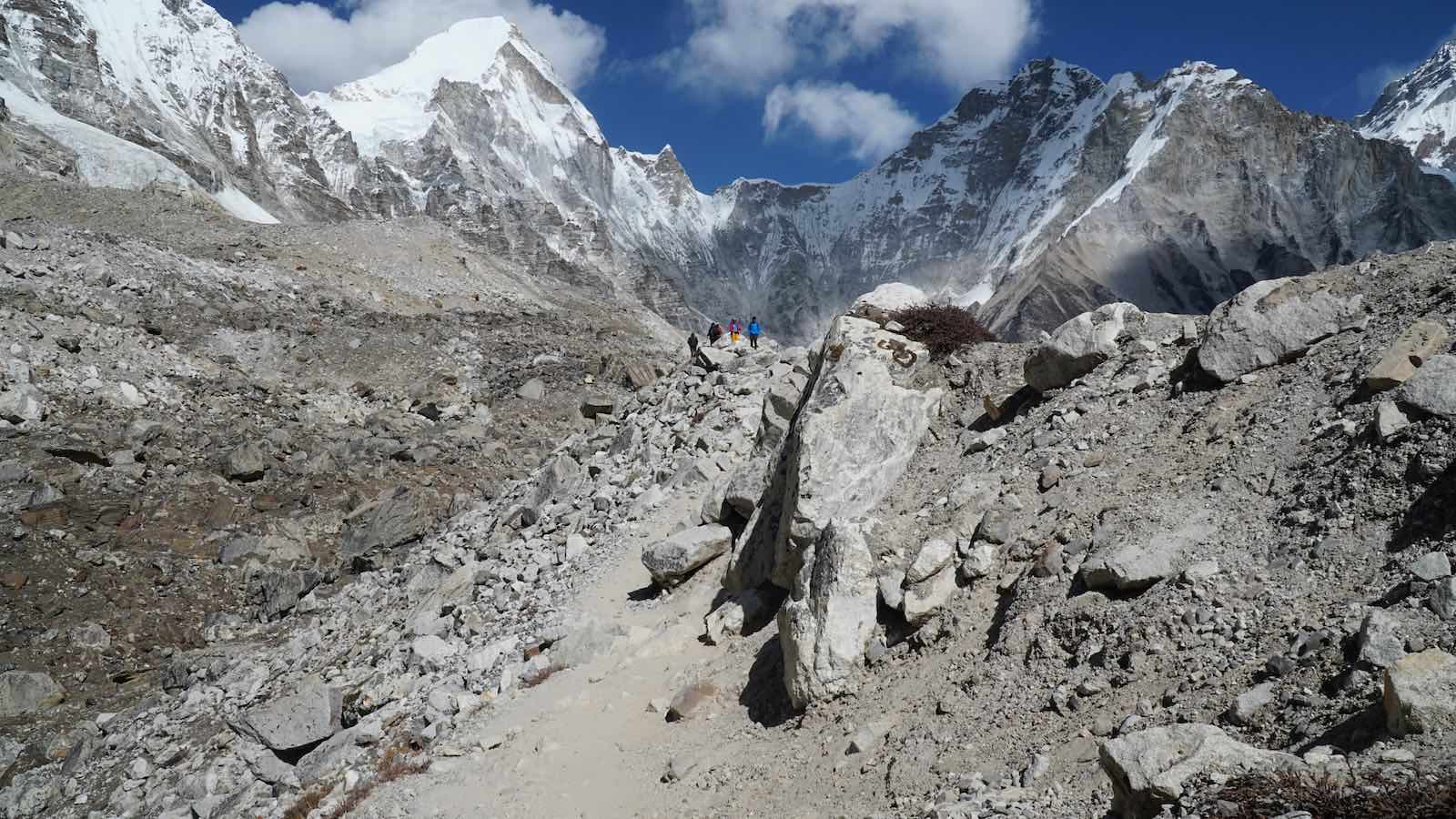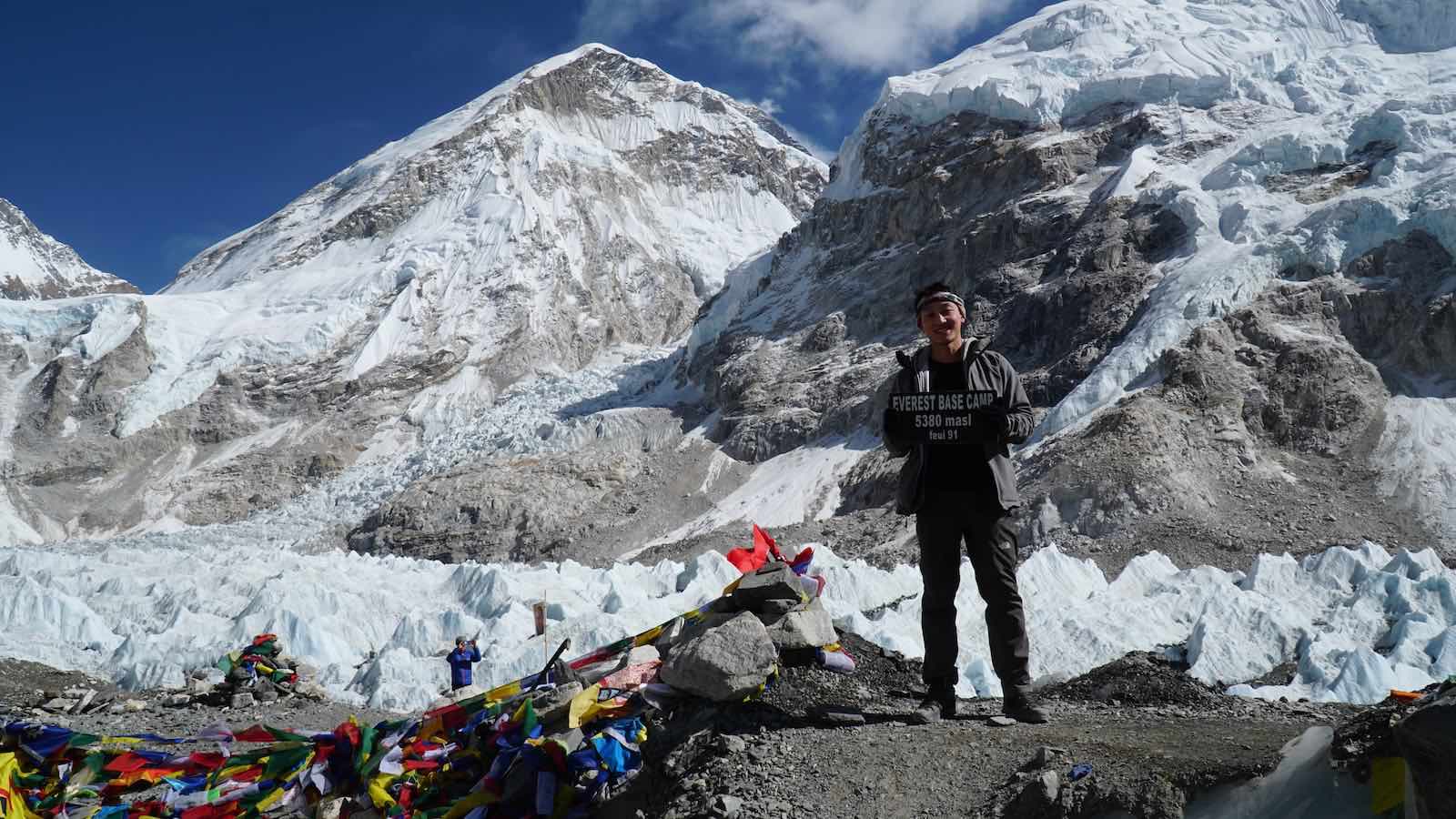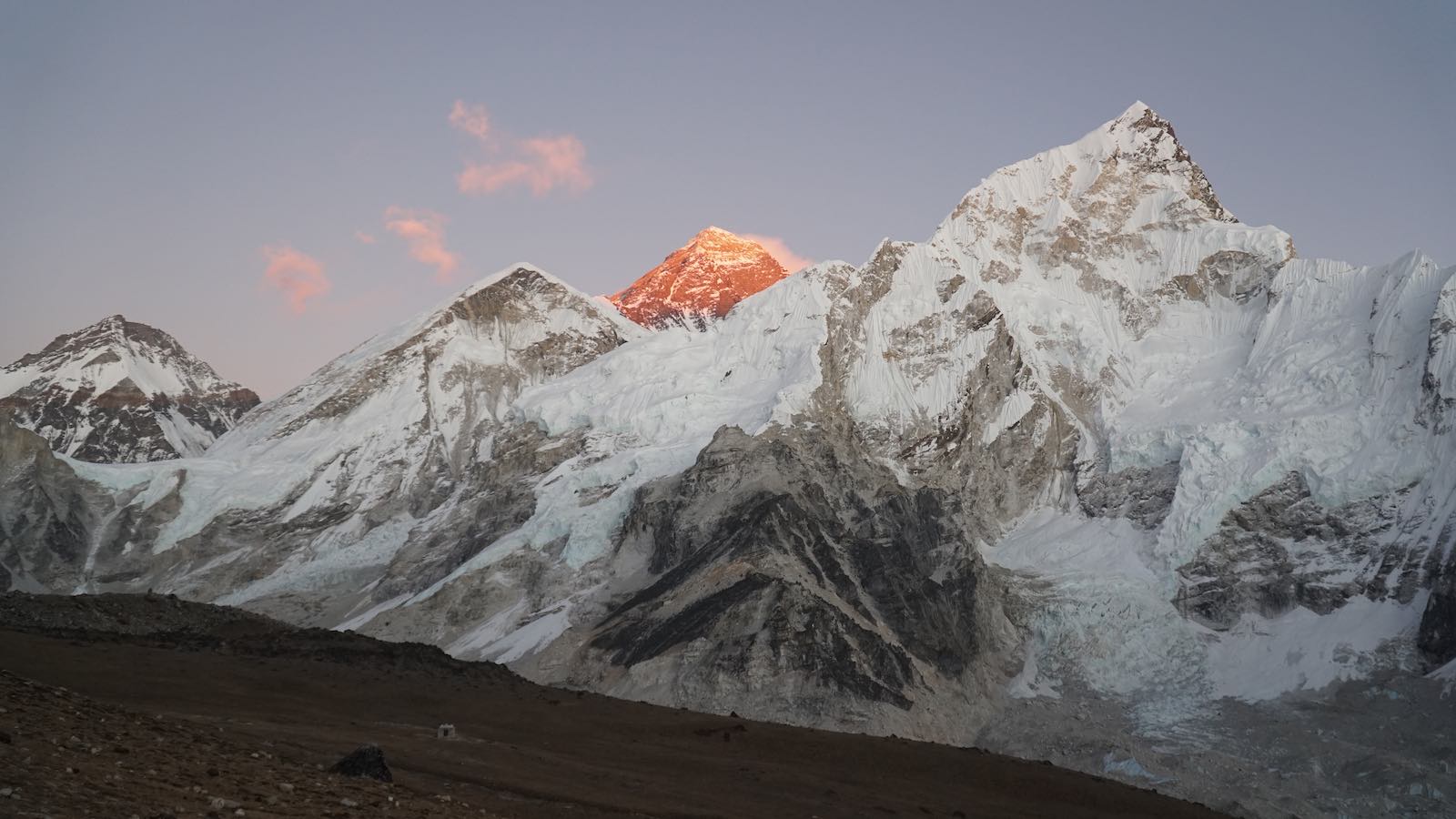 I woke up still with a slight headache but it was WAY better than last night, and it was good enough for me to feel like I could attempt to reach Everest Base Camp today. This was it.
I popped another 125mg of Diamox and got ready for the day. It's all going to be about managing the headache. Physically I was okay, even with my leg, but if the headaches came back the way they were last night, I would be done.
Today was the longest trekking day thus far, but I made it to base camp! and I felt okay!!
The weather was perfect too with clear sunny skies!
I was so energized and ecstatic after base camp that I was practically 'running' (wobbling actually with my leg) back to Gorakshep.
Even hiked up another steep trail (Kala Prattar) to a viewpoint of Everest for sunset, which was glorious!
---
Day 9 of 13: (Return) Gorakshep (5,140m) -> Pangboche (3,985m)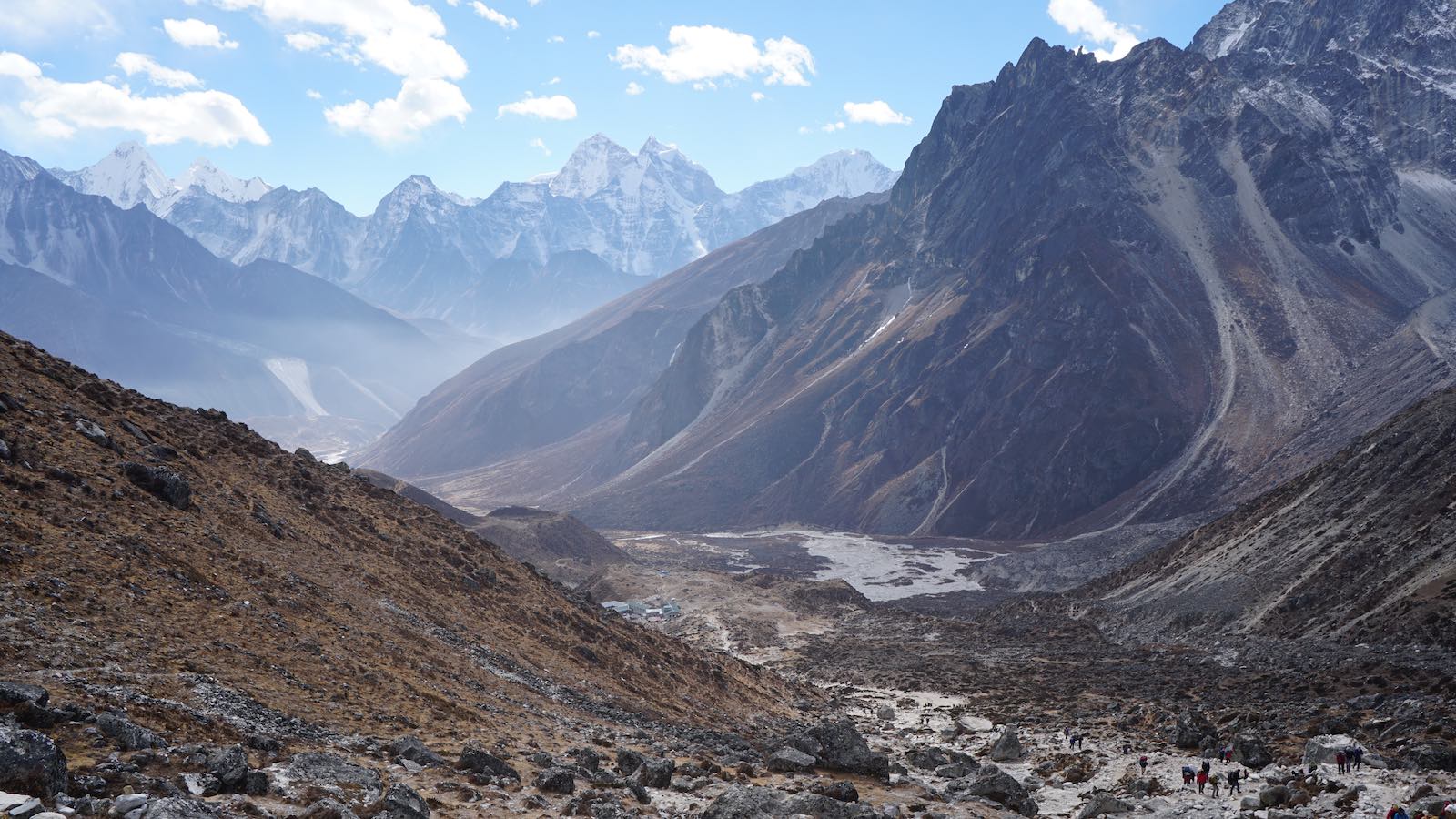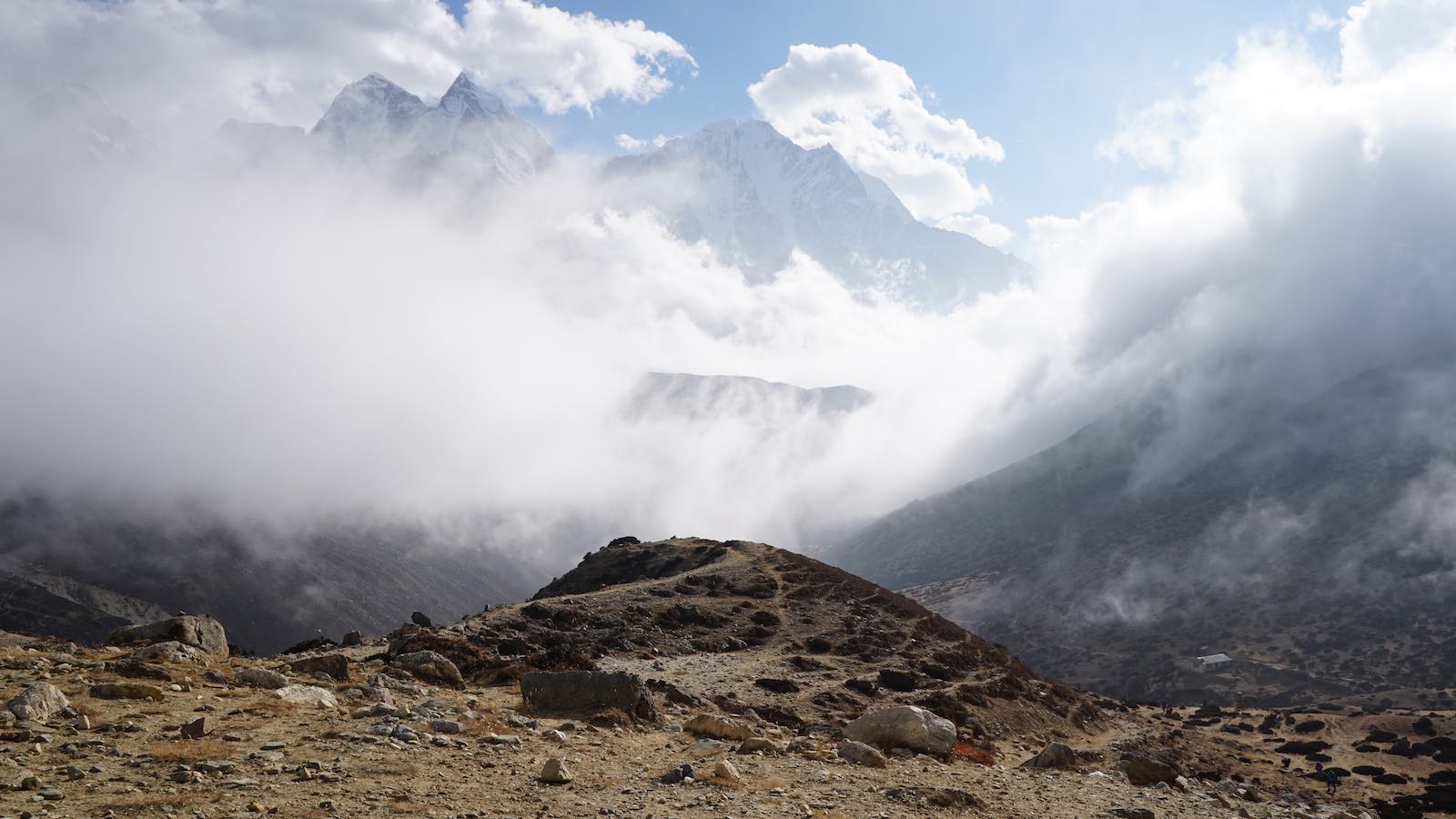 Today we head back down, basically as far as we can go from Gorakshep.
Was excited about getting more oxygen, looking forward to eventually getting back to Kathmandu now and taking a hot shower, and not being freezing cold 24/7, and use a real toilet, and message my friends and family again. The trek was all a great experience getting away from modern luxuries, I learned a lot of things and broke some bad internet habits finally, but boy was I ready to be back in civilization again.
Today was longest I've ever walked: 8.5 hours. This whole trek has been incredibly scenic but today was by far the most scenic: Giant clear valleys and nearly mystical looking mountains shrouded by clouds slowly rolling in. There were some parts where I was completely alone too since our group had to split up which made the scenery even more dramatic.
My right knee (good leg) started to feel the strain today. It's been taking 95% of the impact this whole trek while I've been limping and focusing on preserving my left knee, and I think it was getting overused.
---
Day 10 of 13: Pangboche (3,985m) -> Namche Bazaar (3,440m)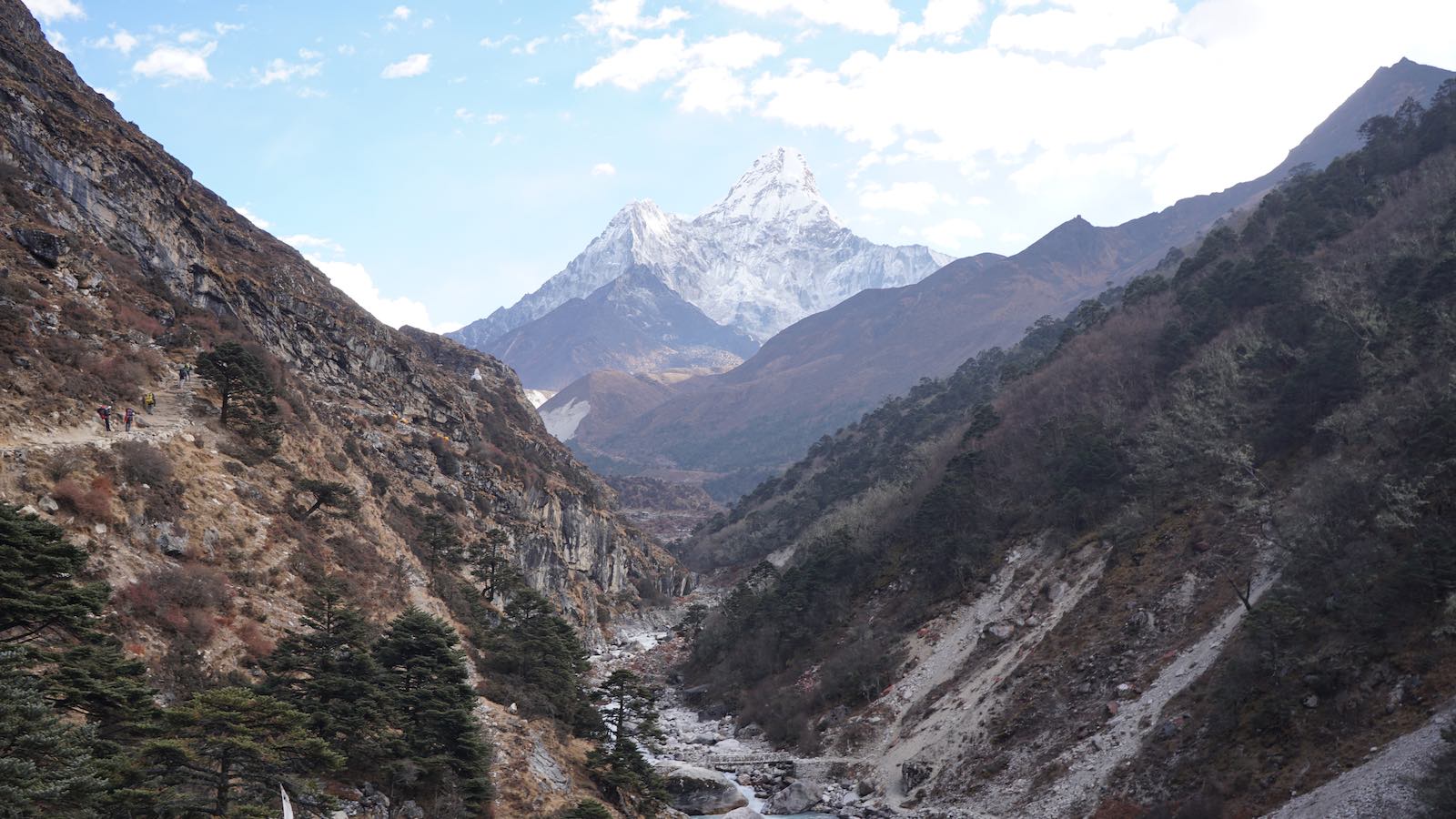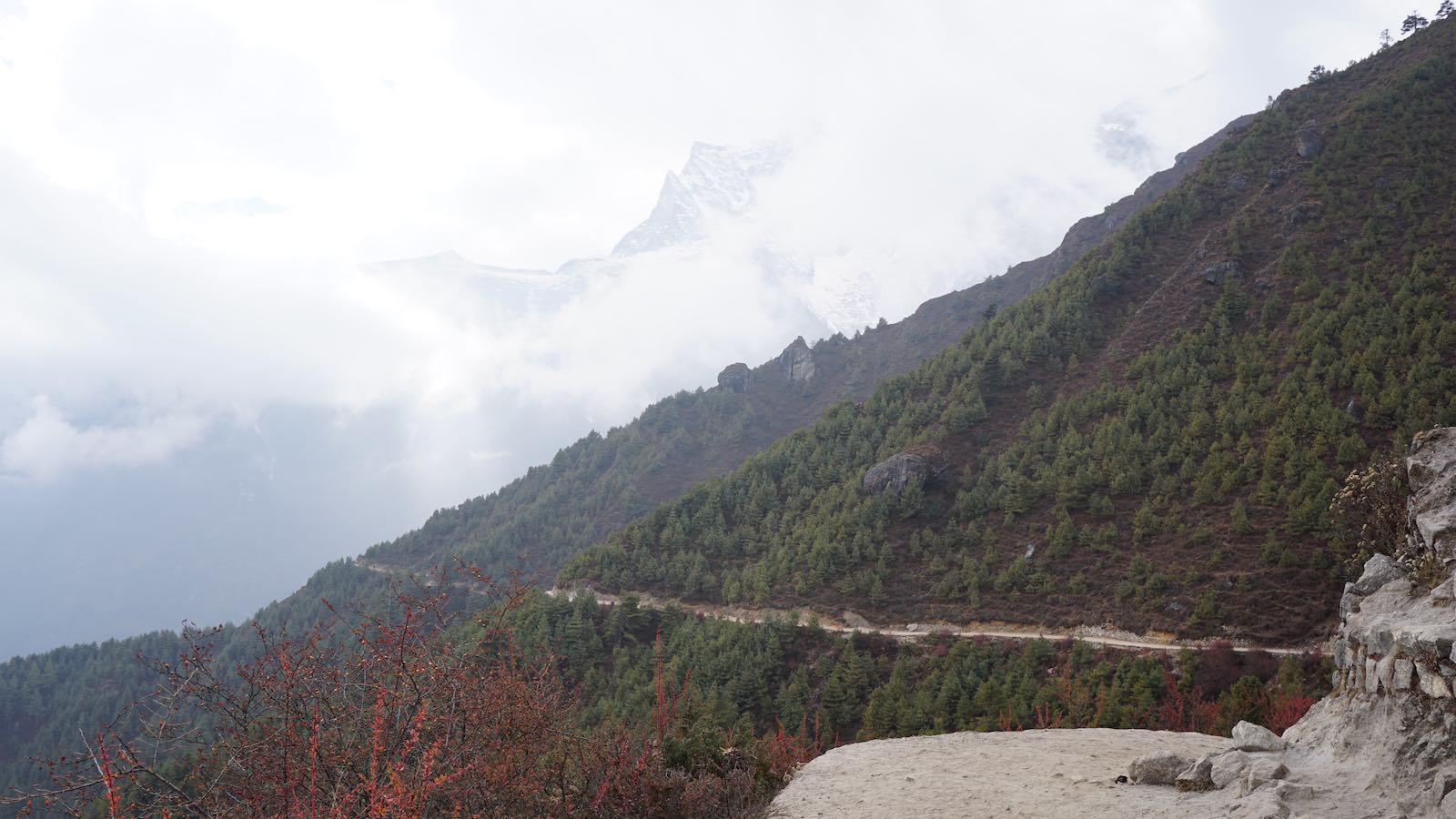 Another long day of trekking.
My leg has been improving slowly despite all the walking I've been doing. I was finally able to walk short lengths normally without pain.
Reminisced a lot about this trek today, it's coming to a close and I'm looking forward to returning to some things but there's also a lot I'm going to miss from this trek. I got to know my trekking group pretty well, 3 other guys all from Ireland. We would play cards together before/after dinner most nights on the trek and that was always a blast. Also the simplicity of the days: Wake up, trek, rest, eat, sleep, repeat, was nice for a while. Not having the internet too was nice, I had always wanted to try and go a long period of time without being connected and I finally did it here.
---
Day 11 of 13: Namche Bazaar (3,440m) -> Lukla (2,860m)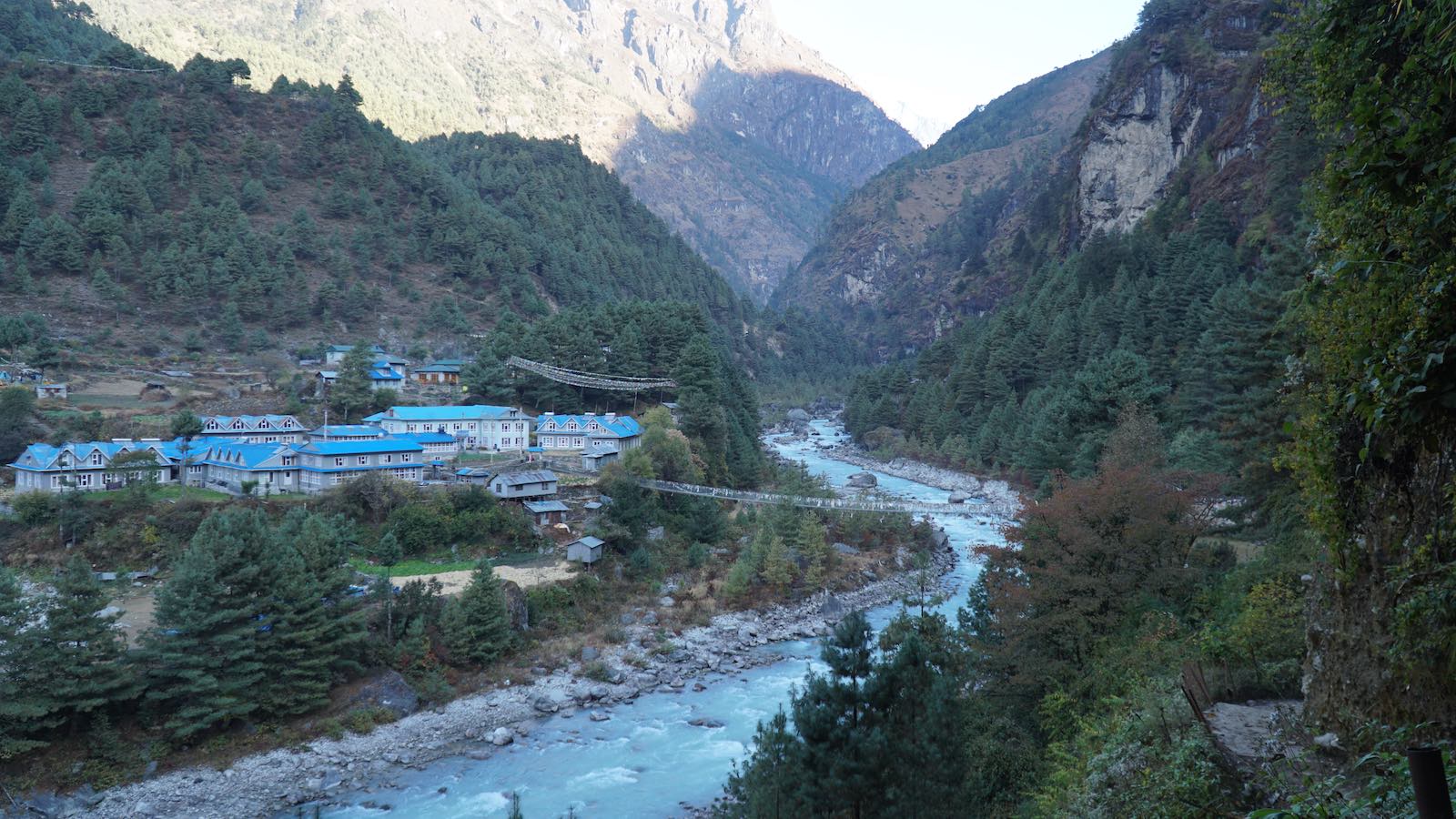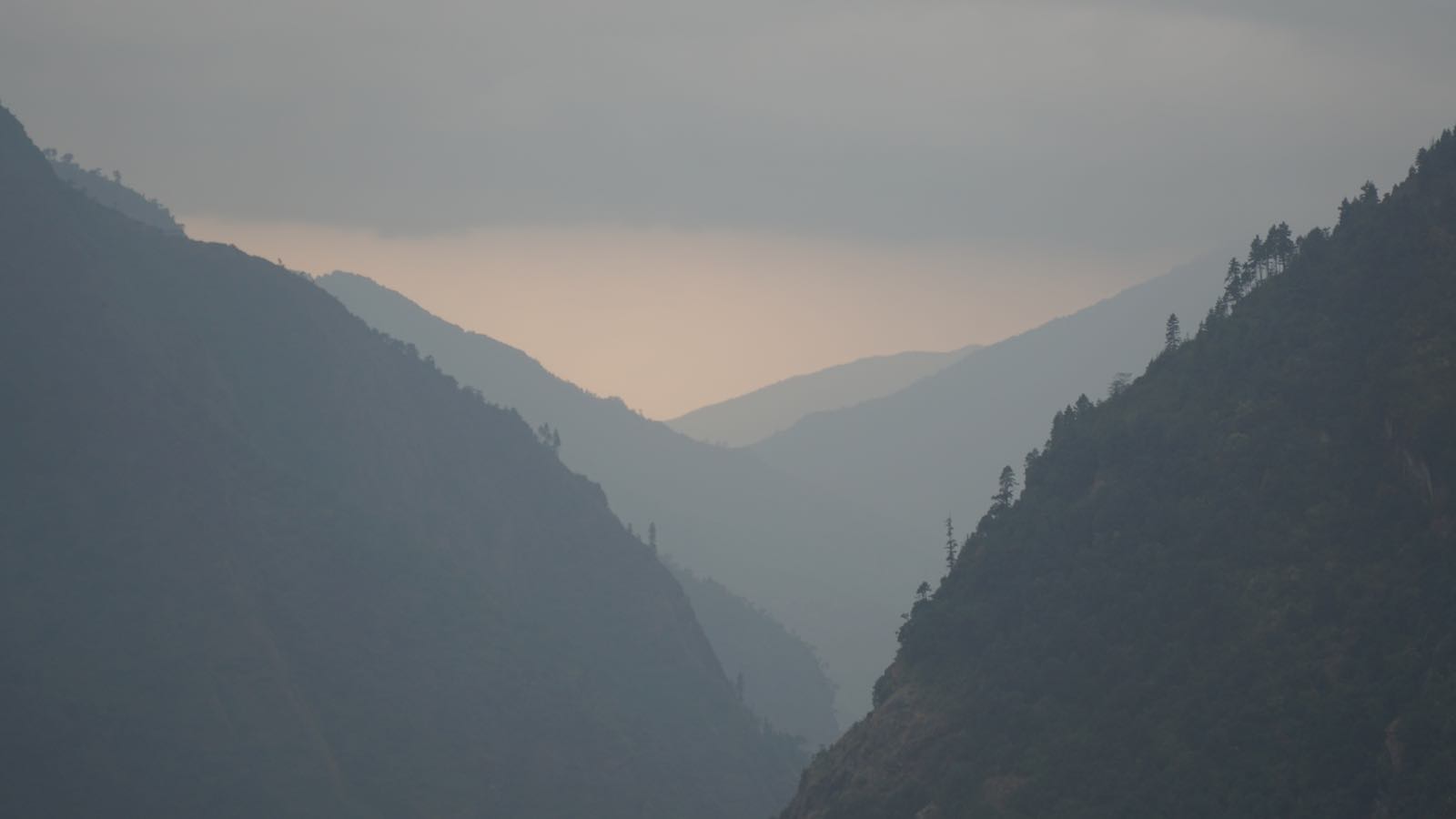 Yet another long day of trekking back to Lukla, where we flew into initially and where we were going to fly out of. This is the last trekking day.
The exhaustion hit me hard today. It felt like my body was holding back a lot of the fatigue due to excitement but today it couldn't contain it anymore and the wave of exhaustion slammed me. My left knee, which had been improving, reared up again and got way worse and my good leg ran out of steam, and I rolled my ankle pretty hard.
I was just heads down, listening to music and focusing on taking one step at a time.
Finally reached Lukla, right as it started getting dark, we probably trekked a good 9 hours today.
Miraculously our room had an en suite bathroom and a HOT SHOWER!! It was unreal and my body couldn't believe that the water was actually hot. Finally took a shower after 11 days.
After dinner, a big trekking group that was eating at the same teahouse as us broke out into a dance party with their porters and Nepali guides. It was cute to see as they 'danced' to songs like Gangnam Style.
---
Day 12 of 13: Stuck in Lukla (2,860m)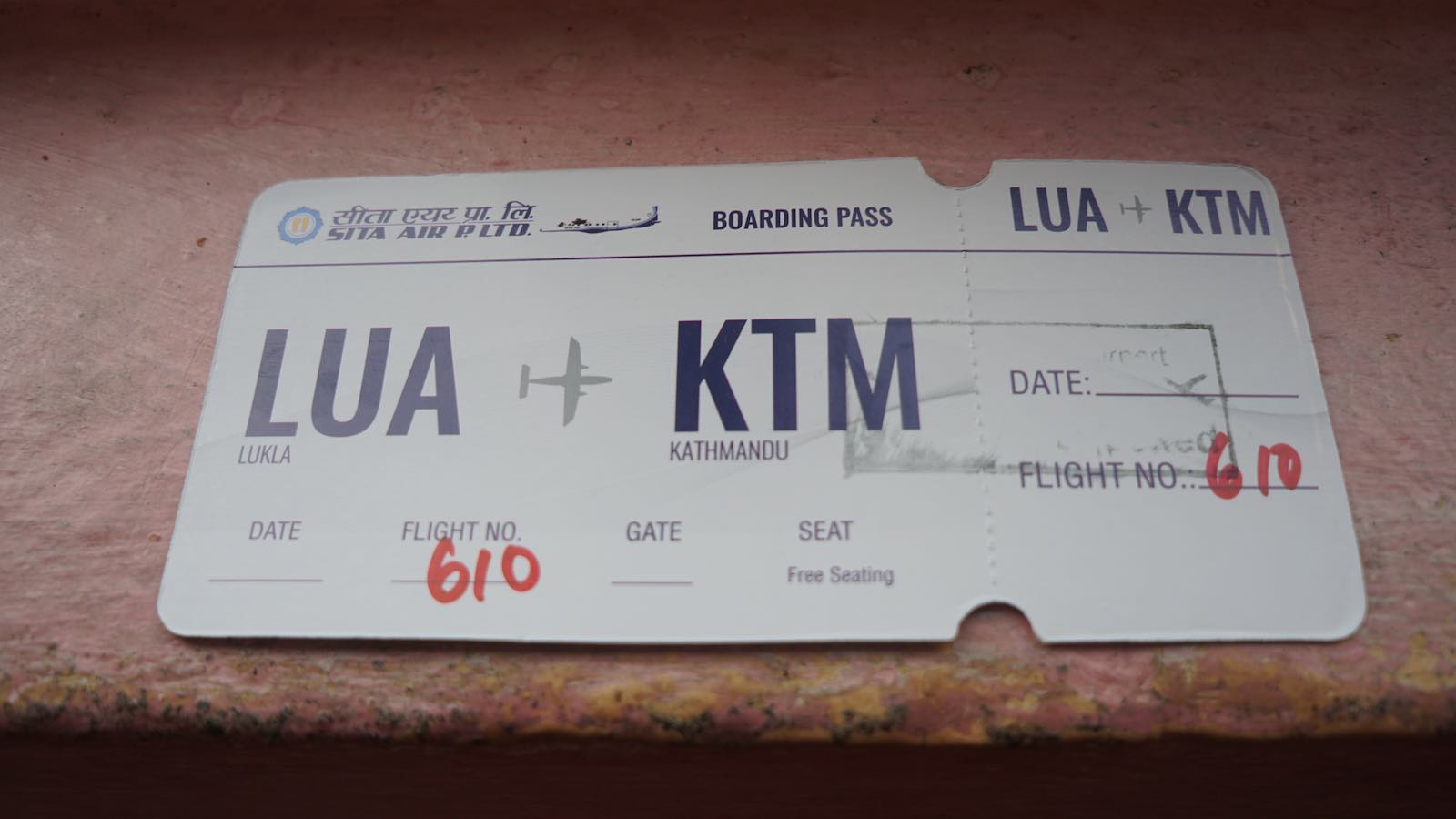 My flight was 'scheduled' for 8:30am. I would learn later today that being 'scheduled' didn't mean much here.
I learned a lot about how the Lukla airport worked and it was fascinating (after I got over my frustration from not knowing why my flight was delayed for 7+ hours) I want to write a whole blog post about my Lukla airport experience, because I can't sum it up properly with a few bullet points, but I'll link here afterwards. EDIT: I finished the post: My Experience Flying Out of Lukla
I finally got my boarding ticket around 3:00pm for my originally 8:30am flight. I was so relieved! Was getting worried that I would get stuck here on the mountain as I heard that some people had already been stuck here for 4 days. I strapped into the 16 seater airplane, the pilot kicked the engines into high gear, started down the short and death defying runway…. and veered off back into the waiting area.
Technical problems with the airplane, it was overheating and the pilot aborted the takeoff. He decided that the plane couldn't fly today and so I was stuck on the mountain.
---
Day 13 of 13: Flight back - Lukla -> Kathmandu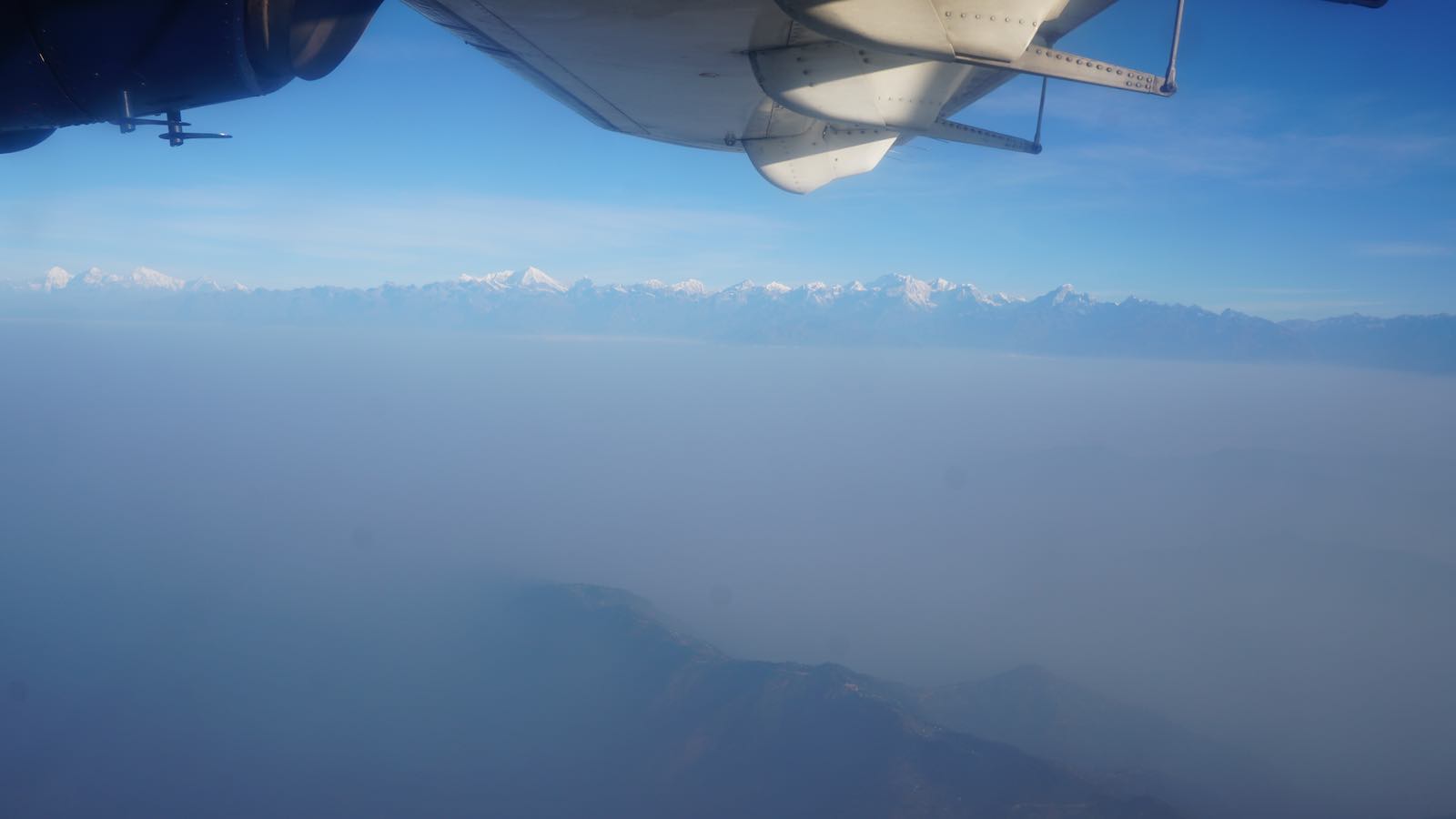 Got to the airport at 6:00am and it was instantly packed as soon as it was open with people who had been delayed for who knows how long, trying to get a ticket out.
I found some of the people on my aborted flight yesterday afternoon and with strength in numbers, we helped each other squeeze through the crowds to the check in counter with our boarding pass stubs from the day before.
Managed to get the first flight out as the airline honored their promise that due to technical difficulties yesterday we would get the first flight out today.
Thank god it was a different airplane, we saw our broken airplane still on the runway and was worried they would try to fly us in that one again.
Finally made it back to Kathmandu in the morning!
---
I trekked to and from Everest Base Camp between November 10th, 2018 - November 23rd, 2018.